Explosion near Moscow on August 9: photos and videos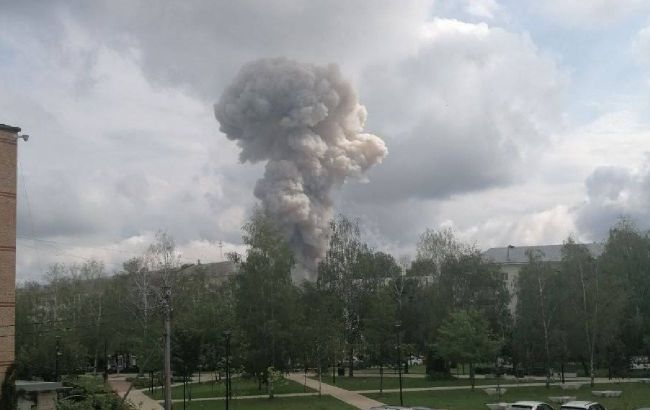 A powerful explosion rocked the Moscow region (Photo: t.me/ostorozhno_novosti)
According to the Russian Telegram channels, a powerful explosion rocked the Moscow region in Russia today, August 9. A column of smoke can be seen rising near the site of the incident.
The incident occurred in the city of Sergiyev Posad, located 70 kilometers from Moscow. The exact cause of the explosion is still unknown.
Russian media outlets assert that the explosion occurred at the Zagorsk Optical-Mechanical Plant. It's reported that windows were blown out in nearby buildings due to the blast.
Footage shared online clearly shows a column of smoke rising over the city.
Reports online indicate that at least 10 people were injured as a result of the explosion. They are said to be in moderate to serious condition. Some media sources mention that the governor of the Moscow region has traveled to the scene of the incident.
Pyrotechnics warehouse explodes
Russian Telegram channel Mash reported that a warehouse containing pyrotechnics belonging to the company "Pyro-Ross" exploded in the city of Sergiyev Posad. Allegedly, the company had rented a space on the factory premises.
An evacuation was announced at the scene of the incident. At the same time, the emergency services of the Russian Federation rejected the version that the plant was allegedly attacked by a drone. The previous cause of the explosion was a violation of the technological process.
According to Russian media, the Zagorsk plant has been involved in the production of observation equipment, medical devices, laboratory instruments since 1935, and more recently, it has been producing dosimetry equipment and safety devices.
Drone attacks in Moscow
In the night of July 30, explosions occurred in Moscow. Later, it was revealed that unidentified drones targeted the business center of the Russian capital, "Moscow City." The drones struck what's known as the "Government Tower," housing the offices of three Russian ministries: Ministry of Economic Development, Ministry of Industry and Trade, and Ministry of Communications.
During the night of August 1, explosions were heard once again in the "Moscow City" area. According to preliminary information, at least one drone flew into the tower of the elite complex.
Furthermore, Russians claimed that on the night of August 9, an attempted drone attack on Moscow was made again, but according to the Russian Ministry of Defense, they were successfully intercepted.