Drone attack on Moscow and Crimea, July 30 - details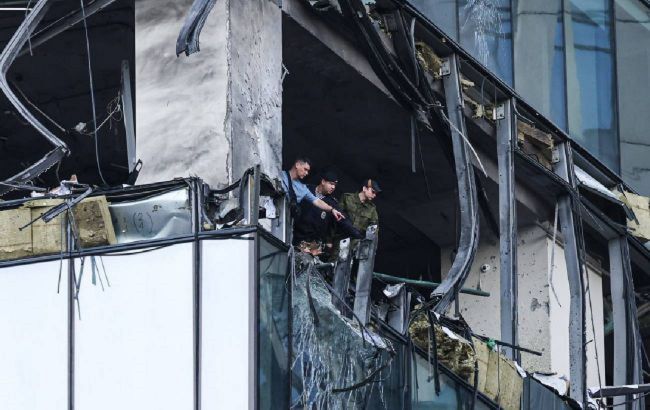 Photo: drone hits elite Moscow complex (twitter.com)
That night, an explosion occurred in the Russian capital on the territory of the Moscow City complex, and the Russians reported a drone attack. In addition, the Russian Defense Ministry claims to have "repulsed an attack" on the temporarily occupied Crimea. Read more about these "attacks" and their consequences in the RBC-Ukraine article below.
Moscow
After 4:00 a.m., explosions were heard in the Russian capital and the Moscow region. Later, it was reported that an explosion occurred on the territory of the elite Moscow City complex, namely in the IQ-quarter building.
Eyewitnesses wrote online that an unknown drone crashed into the 5th-6th floor of the 50-story building, damaging the towers. Moscow Mayor Sergei Sobyanin assured that there were no casualties or injuries, although the locals reported a victim.
Telegram channels also reported that the explosion occurred in the so-called "ministerial tower." The offices of three Russian ministries are located there: The Ministry of Economic Development, the Ministry of Industry and Trade, and the Ministry of Communications.
The drone attack. After the incident, the Russian Ministry of Defense declared that it had "repelled a drone attack," which has traditionally been blamed on Ukraine. According to the Russians, one drone was allegedly shot down by air defenses over the territory of the Odintsovo district of the Moscow region.
Two other drones, according to them, were allegedly suppressed by electronic warfare, after which they "lost control" and crashed into the Moscow City complex.
It should also be noted that Vnukovo airport was closed due to the explosion in the elite Moscow City complex. Flights were neither received nor taken off.
Crimea
In addition, the Russian Defense Ministry announced a "drone attack" on occupied Crimea. The Russians claim that there were allegedly 25 drones and, of course, blame Ukrainian forces.
"16 Ukrainian unmanned aerial vehicles (UAVs) were destroyed by air defense fire. Another 9 Ukrainian drones were suppressed by electronic warfare and crashed in the Black Sea and near Cape Tarkhankut before reaching their target," the Russian Defense Ministry stated.
It is worth noting that the largest Crimean Telegram channels did not report any explosions that night.