Strike on drama theater in Chernihiv, deaths and dozens injured: What is known about shelling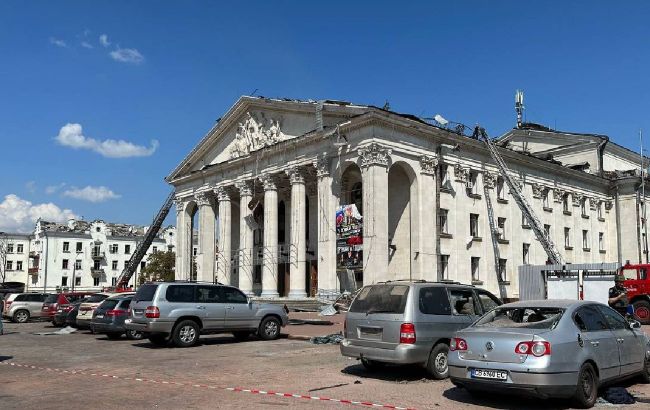 Occupants shelled the center of Chernihiv on August 19th (Photo: t.me/mvs_ukraine)
Russian terrorists launched a rocket attack on the center of Chernihiv during the day on August 19th. As a result of this cynical enemy attack, there are casualties and dozens of injured, including children.
Details about the aftermath of the Chernihiv shelling are provided in the article below.
Air raid siren and explosions
After 11:30 AM, an air raid siren was sounded in the northern regions of Ukraine, including the Chernihiv region. The Ukrainian Air Force alerted about the threat of missile strikes.
Later, explosions were heard in Chernihiv. Viacheslav Chaus, the head of Chernihiv Regional State Administration, reported a rocket strike on the city center. According to him, the occupiers used ballistic missiles.
Strike on drama theater
President of Ukraine Volodymyr Zelenskyy reacted to the shelling of Chernihiv. He stated that a Russian rocket hit the city center, damaging the drama theater, the central square, and the Polytechnic University.
State Emergency Service clarified that the roof of the drama theater was damaged, and a fire broke out there. The fire department and a store were also damaged.
Interior Minister Ihor Klymenko revealed that the people who were inside the cultural building miraculously survived. According to him, an air raid siren sounded a few minutes before the attack, and some of the visitors managed to seek shelter.
Victims and injured
Local authorities and the president have announced that there were casualties and fatalities as a result of the enemy attack.
Later, the Ministry of Internal Affairs stated that preliminary information indicated 5 fatalities. Another 37 people were injured, including 11 children.
At 13:40, Interior Minister Ihor Klymenko reported that the number of fatalities had increased. A six-year-old child, who had sustained severe injuries, passed away.
"The girl who passed away is the sixth victim at the age of six. Patrol officers tried to provide first aid, applied a tourniquet due to severe blood loss. Unfortunately, doctors were unable to save her," Klymenko said.
As the minister noted, the child's mother was in critical condition, and many people require surgical intervention.
Photo: Occupants strike at the center of Chernihiv (t.me/mvs_ukraine)