Missile strike on Chernihiv: 42 people injured, more than ten of them are children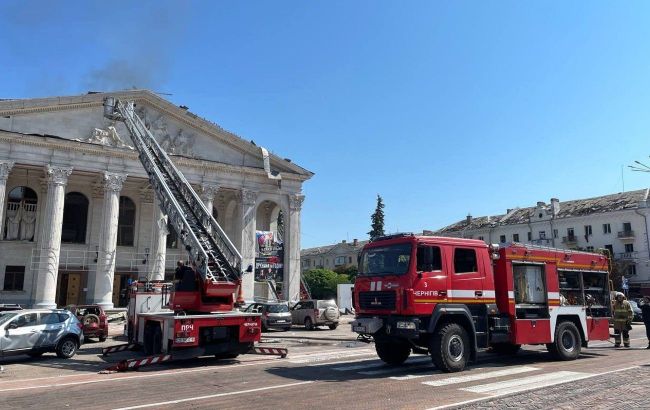 Rocket strike on Chernihiv: 42 people injured, more than ten of them are children (Photo: t.me/Klymenko_MVS)
Russian occupiers launched a rocket strike on the center of Chernihiv in the morning. Currently, there is information about 42 injured individuals, including fatalities, according to Interior Minister Ihor Klymenko on his Telegram channel.
As reported by Klymenko, as of 1:00 PM, it is known that:
terrorists targeted the Drama Theater in Chernihiv;
42 individuals were injured as a result of the Russian strike;
5 people have died;
among the injured, there are 11 children.
Photo: Rocket strike on Chernihiv: 42 people injured, more than ten of them are children (t.me/Klymenko_MVS)
Currently, all individuals are receiving medical assistance.
Rocket strike on Chernihiv
In the morning, terrorists struck the center of Chernihiv, presumably with a ballistic missile. After some time, Acting Mayor Oleksandr Lomak announced that there were casualties and fatalities among civilians.
Later, President Volodymyr Zelenskyy also responded to the attack. As the country's leader noted, today's shelling was one of the reasons why Ukraine was uniting the world against the terrorist Russian Federation.
"This is what a neighborhood with a terrorist state is, this is what we unite the whole world against. A Russian missile hit right in the center of the city, in our Chernihiv. A square, the polytechnic university, a theater. An ordinary Saturday, which Russia turned into a day of pain and loss. There are dead, there are wounded. My condolences to those who lost loved ones!" the President wrote.
All known details of the attack can be found at the link.