Donetsk region communities to be unified after war, Military Civil Administration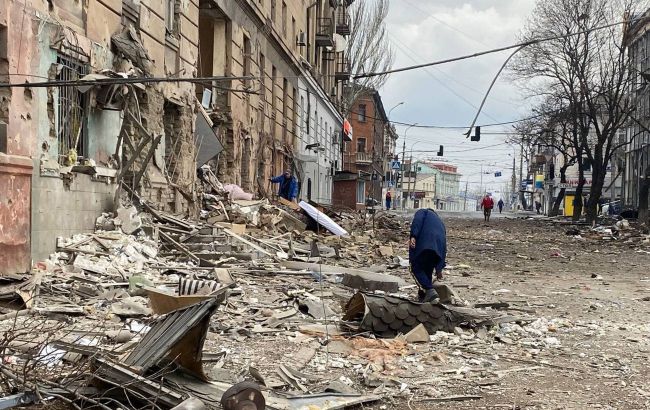 Destruction in Mariupol during the Russian blockade (photo: t.me.polkazov)
Donetsk Regional Military Civil Administration proposes considering the necessity of merging territorial communities after the liberation of the entire region from Russian occupiers, says Nataliia Chukova, Head of the Cooperation with Local Government Authorities Department, during a briefing.
According to the official, for most communities post-deoccupation, it will be difficult to sustain themselves independently under post-war economic conditions due to issues with population size, providing necessary agricultural equipment, and lack of legal capacity.
Thus, Donetsk Regional Military Civil Administration (DonMCA) is considering the possible merger of specific communities after the cessation of hostilities across the entire region.
"How they need to be united, based on which criteria - it's currently being worked out," Chukova said, noting that this will also depend on the situation in the liberated territories.
Considering the scale of destruction in cities and villages caused by Russian occupiers, the official emphasizes the future issue of redistributing territorial communities within Donetsk regional.
The DonMCA representative also noted that there were 66 AHs (amalgamated hromadas) in the region, out of which 20 have been located in the occupied territory since 2014. Prior to Russia's full-scale invasion, approximately 1,890,000 citizens lived in the free territories of the region, but now around 493,000 people remain there.
Situation in Donetsk region
Russian occupiers open fire on cities and villages of Donetsk region daily. Frontline settlements of the region, and even those in relative rear areas, are constantly under attack.
Due to the situation, local residents are urged to evacuate to safer regions of Ukraine. On August 5, during a Coordination Headquarters meeting, a decision was made to expand the forced evacuation of children in the region. The list was extended to include 9 more populated areas.
Head of Donetsk Regional Military Civil Administration, Pavlo Kyrylenko, stated on August 13 that the region plans to forcibly evacuate 388 children with their families from "hotspots."
Decentralization after victory
In March, the head of the Verkhovna Rada Committee on Organization of State Power, Local Self-Government, Regional Development, and Urban Planning, Olena Shuliak, stated that decentralization reform remains one of the most important, as it will allow building a European-style governance system in Ukraine.