Crimean Bridge operates under restricted conditions, subjected to 'airing out' mode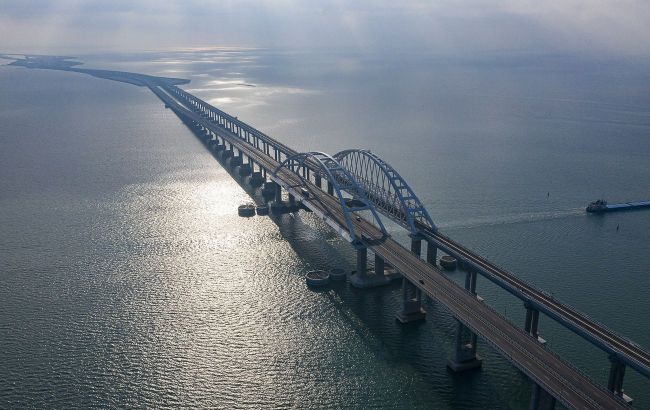 Crimean Bridge (Photo: wikipedia.org) 
According to Natalia Humeniuk, the spokesperson for the Security and Defense Forces of the South of Ukraine, and her statement made during a TV interview, in the aftermath of recent drone attacks, the Crimean Bridge is now operating under limited capacity, failing to provide full logistical support for Russian forces.
"The bridge has been put on 'airing out' mode, causing it to intermittently open and close, and it is operating at less than full capacity. Some lanes are still functioning, but only for light vehicles and under restricted conditions. The railway is also operating under a specialized and severely limited regime," explained Humeniuk.
According to her, this means that the major bridge artery is unable to ensure comprehensive logistics, similar to other "ailing" bridges such as Chongar and Genichesk, which are unable to meet Russia's full logistical and supply needs.
Humeniuk also noted that the Russians are responding to the threat by increasing their naval presence to patrol and monitor the maritime situation.
"However, their response to a threat not entirely familiar in terms of tactical and technical characteristics could vary, which is why they periodically conduct drills and demonstrations around this structure," she added.
Attack on the Crimean Bridge
On July 17th, a fresh incident occurred on the Crimean Bridge. Later sources revealed that the Security Service of Ukraine (SBU) and the Navy successfully attacked the occupiers' bridge using maritime drones.
This resulted in the destruction of two sections of the Crimean Bridge. The damage was significant enough that, according to estimates from the occupying authorities, restoration work will extend until at least the end of the year.
Furthermore, owing to coordinated efforts between the SBU and the Navy, a Russian Federation amphibious ship named "Olenegorsky Gorniak" was sunk in the port of Novorossiysk on August 4. The following day, in the vicinity of the Kerch Strait, a maritime drone struck an oil tanker named SIG.