Attack on Crimean Bridge: operation by SBU and Ukrainian Navy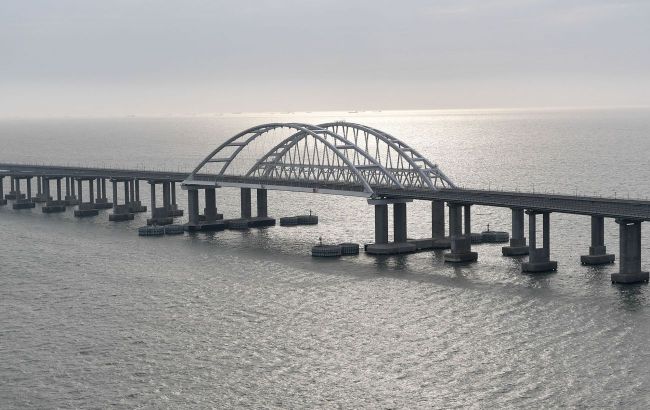 Attack on the Crimean Bridge is an operation by the SBU and the Ukrainian Navy (Photo: Getty Images)
Sources of the Security Service of Ukraine (SBU) say that the nighttime attack on the Crimean Bridge was a special operation carried out by the Ukrainian Naval Forces and the SBU.
"The bridge was attacked using surface drones. It was difficult to reach the bridge, but in the end, it was successfully done," a source reported.
It should be noted that earlier, the head of the SBU, Vasyl Maliuk, stated that the bridge is a legitimate target for Ukraine and promised to provide details of unique special operations after victory.
Updated 09:10 a.m.: the SBU responded ironically to the situation.
"Soloveiko (Nightingale), dear brother, the bridge went 'to sleep' again. And once... Twice! P.S. Music - folk. Lyrics - SBU," said the statement from the Security Service of Ukraine.
Crimean Bridge under attack again
Recall that explosions were heard on the Crimean Bridge during the night. Following this, the so-called head of Crimea, Sergey Aksyonov, claimed there was a supposed "emergency situation near support pillar 145."
Preliminarily, the passage of the Crimean Bridge towards Taman was destroyed, while another passage towards Kerch sagged. The road and rail traffic are blocked, but the occupants promise to restore it by 09:00.
Officially, the Russians report two casualties - a man and a woman from the Belgorod region of the Russian Federation.
It is worth noting that the Crimean Bridge is undergoing destruction for the second time in ten months. The previous collapse of the bridge occurred on October 8, 2022. At that time, according to the occupiers, a truck exploded on the Crimean Bridge. Russian dictator Vladimir accused Ukraine of a "terrorist attack." Officially, the Ukrainian side has not yet claimed responsibility, but it has repeatedly stated that the Crimean Bridge is a legitimate target since the occupiers use it as a logistical route to supply military equipment and more to the occupied peninsula.