Boeing accelerates delivery of 1800 precision-guided bombs to Israel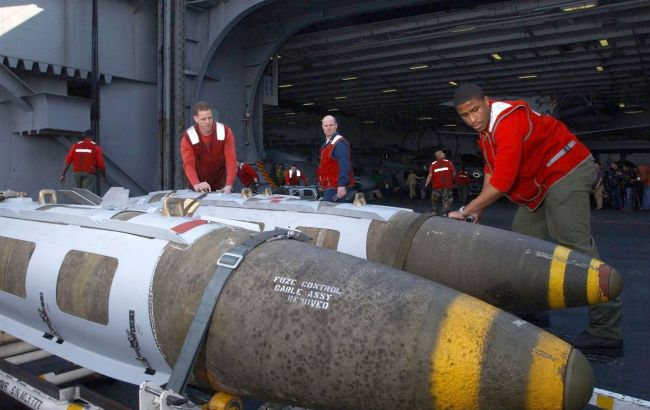 Boeing will deliver nearly 2,000 precision-guided bombs to Israel (Photo: wikimedia)
Boeing is expediting the delivery of around 1,800 kits to Israel, which convert unguided bombs into precision-guided munitions using GPS guidance, according to Bloomberg.
The expedited deliveries of Joint Attack Direct Munition (JDAM) munitions from Boeing to the Israeli government stem from a direct commercial sale made in 2021 for approximately $735 million.
The sale originally included deliveries over several years, but this schedule was accelerated following the Hamas attack on Israel on October 7. The kits are designed for bombs weighing 227 kilograms and more.
The article asserts that an official representative of the United States confirmed the transfer, adding that the Pentagon provided instructions but did not send the kits on U.S. military aircraft because this is part of a direct sale.
Senators may request the U.S. Secretary of Defense, Lloyd Austin, to provide details of all deliveries of munitions to Israel, including JDAM kits and 155mm artillery shells at a classified briefing. It is noted that officials discussed these deliveries under conditions of anonymity, as they were not related to official actions of the U.S. Department of Defense.
Joint Attack Direct Munition (JDAM) munitions
Joint Attack Direct Munition (JDAM) munitions can transform unguided 500, 1000, and 2000-pound bombs into precision-guided munitions launched from a distance of 24 kilometers. They are capable of striking targets within a 60-meter radius of the designated point of aim, depending on the type of navigation used.
Joe Biden's visit to Israel
U.S. President Joe Biden is currently visiting Israel amid escalating concerns about the conflict, notably due to the strike on a hospital in the Gaza Strip, which, according to official data, has resulted in the deaths of at least 500 Palestinians.
It is reported that the American leader intends to address the U.S. Congress with a request for the provision of an "unprecedented" support package for Israel's defense.