Second attack on Odesa National Art Museum - What is known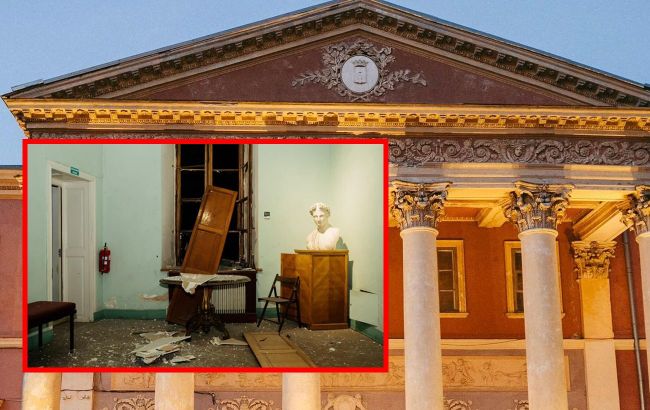 Odesa National Art Museum (collage: RBC-Ukraine)
On the night of November 6, Russia shelled Odesa, resulting in damage to 20 multi-story residential buildings, over two dozen cars, and infrastructure. One of the landmarks affected by this attack is the Odesa National Art Museum, which has suffered damage for the second time.
Sources used during the preparation of this material include Wikipedia, the Telegram channel of the head of the Odesa Regional State Administration Oleh Kiper, and the Facebook page of the Odesa National Art Museum.
The museum's history
The Odesa National Art Museum was founded on November 6, 1899, thanks to the efforts of the Odesa Society of Fine Arts. The collection of the museum began with paintings transferred by the Imperial Academy of Arts in St. Petersburg.
In 2021, the museum was granted national status. In the same year, it was transferred to state ownership.
Throughout its years of existence, the museum has undergone 11 name changes, with almost every decade seeing a new name. It received its current name in 2021.
Odesa National Art Museum (Photo: facebook.com/onfam.ua)
The exposition of the Odesa National Art Museum includes several dozen exhibits. Among the most prominent art paintings are:
Official portrait of Catherine II full-length
Portrait of Colonel Palmenbach
Portrait of an unknown young man (Orest Kiprensky, 1st quarter of the 19th century)
Portrait of N. Obolenska
Portrait of N. Gabaeva
Portrait of the wife (Boris Kustodiev)
Later on, the museum started to acquire landscapes, including works by Ivan Aivazovsky and Ivan Shishkin. In 2005, one of Aivazovsky's paintings, "Marine View," was stolen from the museum. The thieves broke into the museum through a shattered window. The artwork was returned in January 2006.
Additionally, one of the underground galleries houses unique decorative frescoes created by Swiss craftsmen dating back to 1895.
Russia is destroying Ukraine's cultural heritage
On July 20, 2023, the museum building was first damaged due to Russian shelling.
For the second time, this happened on the night of November 5, 2023, as a result of a Russian rocket attack on the city center of Odesa.
"The building has damaged walls, and some windows and glass have been shattered. Work is underway to inspect and document the damage to the next object in the UNESCO World Heritage Zone," wrote Oleg Kiper, the head of the Odesa Regional State Administration.
Consequences of the Russian rocket strike on the museum (photo: facebook.com/onfam.ua)
Today, the museum celebrates its 124th birthday. Currently, the museum is closed, and the exhibitions have also been moved. Among the affected artworks are:
Margit and Roman Selsky's "Sunset / Sol Occidens" from Eduard Dymshits's collection
Boris Aizenberg's "Flowers Behind the Tailings"
Works by Oleksandr Hrehov
Stas Zhalobnyuk's "Black Sea"
Volodymyr Semkiv's "Joy"
Albina Yaloza's "Altar of the Heavenly Host"
Kinder Album's "Great Meadows, Abundant Grass"