Russia decided to produce T-80 tank again after having lost hundreds of units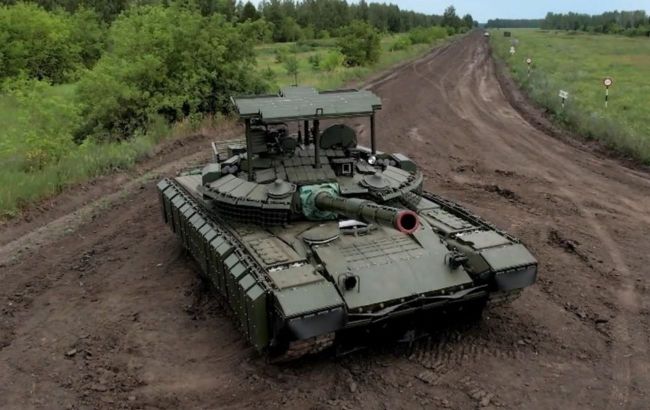 Photo: Russia has decided to produce the T-80 tank again (Russian media)
Russia decided to resume production of the T-80 tank from scratch. This equipment has been actively destroyed by Ukrainian defenders since the beginning of the full-scale invasion.
Read more about Russia's plans to produce T-80s in RBC-Ukraine material.
Resumption of production from scratch
Recently, "Uralvagonzavod" (Russian machine-building company) CEO Alexander Potapov said that they allegedly want to produce T-80 tanks in Russia from scratch.
"This is the task at hand, or at least it has been set for us by the military. And we are now actively interacting, working, studying these issues with the Ministry of Industry and Trade," he added.
According to Forbes, the reason for this decision may be significant Russian losses of equipment, including tanks, during a full-scale war against Ukraine. Oryx reports that 600 occurrences of destruction or confiscation of T-80 tanks in various variants have been registered since February 24, 2022.
The Ukrainian Armed Forces also successfully destroyed the newest tank modification, the T-80BVM. In total, the Russian army lost at least 96 units of this equipment.
T-80BVM
According to Potapov, it is the T-80BVM that they want to produce from scratch, which allegedly has enhanced protection.
Russian propagandists boast that the tank "will be able to withstand attacks from the Javelin anti-tank missile system" thanks to the visor, which is already jokingly called a "grill."
Photo: The "grill" on the T-80 tank turret (Russian media)
But, as Defense Express notes, the tank's modernization is not about the "grill" but about more dynamic protection elements on the turret and other parts of the vehicle.
Photo: Dynamic protection of the T-80 (Russian media)
The T-80BVM tower is also planned to have a mesh with metal elements, which is supposed to block the detonation of a rocket grenade or anti-tank missile in case of a hit.
Photo: Protective mesh on the T-80 (screenshot)
The Russians also say that the equipment will be equipped with an electronic warfare station that will suppress satellite navigation and drone control channels. It is placed on the tower in the form of a characteristic "mushroom."
Photo: Electronic countermeasures (ECM) on the T-80 (Russian media)
Are such plans of the Russian Federation realistic?
The CEO of "Uralvagonzavod" admits that new facilities are needed to resume tank production.
At the same time, as American military journalist David Axe noted in the Forbes article, although "Uralvagonzavod" may still have equipment for production in Russia, it clearly lacks suppliers of tens of thousands of necessary parts.