African leaders refuse to meet with Putin for Russian-Africa conference - UK intelligence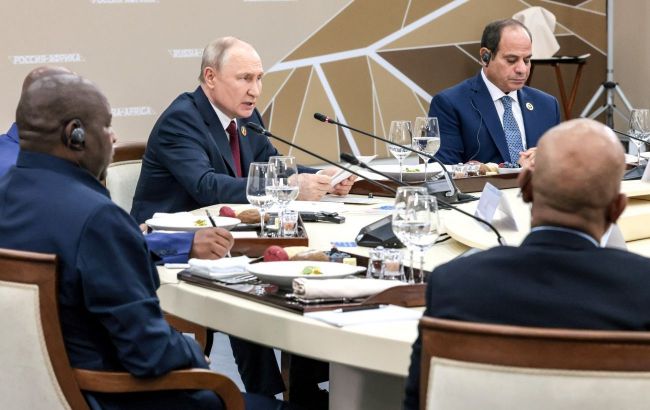 Putin was ignored by most African leaders (Getty Images)
The Russia-Africa Conference took place in St. Petersburg on July 27, 2023, with 17 African heads of state attending, down from 43 at the last iteration, reports the Ministry of Defense of the United Kingdom on Twitter.
The event took place ten days after Russia withdrew from the Black Sea Grain Initiative (BSGI).
The BSGI had allowed the export of 30 million tonnes of Ukrainian grain to Africa, providing essential nutrition to states including Ethiopia, Kenya, Somalia, and Sudan.
According to British intelligence, besides the direct disruption of supplies, Russia's blockade of Ukraine is also causing grain prices to rise.
"The impact of the war in Ukraine will almost certainly compound food insecurity across Africa for at least the next two years," warns the British Ministry of Defense.
Grain prices rise
This month, Russia withdrew from the UN-led agreement on the transit of Ukrainian grain, which had guaranteed safe passage for cargo vessels to the ports of Odesa. The International Monetary Fund estimates that this move will lead to a 10-15% increase in global grain prices.
The US State Department has said that Russia's withdrawal from the grain deal would exacerbate hunger in some of the most affected regions worldwide, including Africa.
During the Russia-Africa Summit, President Putin announced that Moscow is ready to supply up to 50,000 tons of free grain to Zimbabwe, Burkina Faso, Mali, Somalia, the Central African Republic, and Eritrea within the next three to four months.
However, Zimbabwean President Emmerson Mnangagwa said that his country does not face any food shortages.
The Russia-Africa Summit takes place on July 27 to 28 and has only seen the participation of 17 out of 55 African nations.