'There's no understanding in society that the front is priority zero' - Ukraine's top volunteer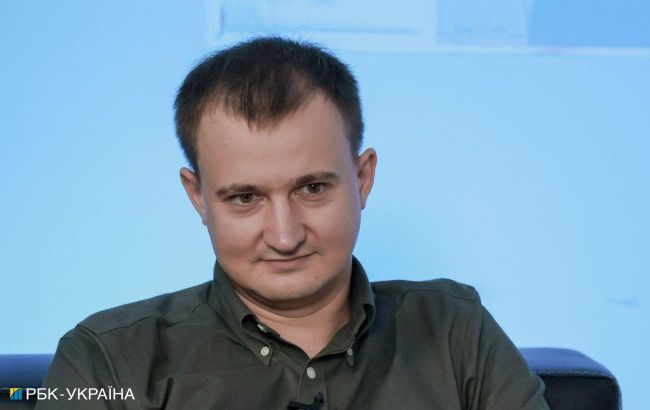 Taras Chmut, the Head of the Come Back Alive Foundation (all photos: RBC-Ukraine)
Taras Chmut is one of the most well-known Ukrainian volunteers who provide assistance to the Armed Forces of Ukraine. Since 2020, he has been leading the Come Back Alive Foundation, which has raised over 7 billion hryvnias (approximately $200 million) during the full-scale Russian invasion to support the army. Chmut is also a marine, a veteran of the ATO (initial phase of the Russian-Ukrainian war since 2014), a military expert, and the founder of the "Ukrainian Military Center."
In the second year of the full-scale war, Ukrainians overall began donating less money to the army, which is confirmed by information from open sources (although there was a multiple increase in donations in June, possibly related to expectations of a counteroffensive). In an interview with RBC-Ukraine, Taras Chmut acknowledges that collecting funds has become more challenging now – although his foundation maintains the level of revenue through more active work and internal transformations.
But we don't start the conversation we with volunteer-related topics; rather, we begin with the main nationwide theme of the recent months – the counteroffensive. In his usual manner, Taras avoids categorical, "clickbait" assessments. "There are no issues with the pace of the counteroffensive or offensive if you don't define it for yourself. If your goal is to liberate Ukrainian territory and you're doing that, then you're doing great. Questions about speed might arise when a specific task comes up, like a kilometer a day," Chmut says.
It's evident that questions about the current and future provision of the Ukrainian army concern him much more than speculations on abstract topics like the collapse of Russia. "While we're talking right now, someone is at war. And while we're thinking here about how Russia will divide, this battle is still ongoing, it will be tomorrow, and the day after tomorrow. So, as long as we're talking about this abstractly, there are things that need to be done here and now," says Chmut. Although the Russian topic wasn't avoided in the conversation, of course. And politics couldn't be avoided either.
On the Ukraine's counteroffensive
"There are no issues with the pace of the counteroffensive or offensive if you don't define it for yourself. If your goal is to liberate Ukrainian territory and you're doing that, then you're doing great. Questions about speed might arise when a specific task comes up, like a kilometer a day. But this task always costs something. First and foremost, people. Accordingly, if we want it quickly, there will be more casualties, multiple times," Chmut responds to the criticism of the "slow" counteroffensive.
Unlike many experts, and even high-ranking officials, Taras has always been extremely cautious in his forecasts regarding the future development of hostilities. As of now, he sees a general trend toward Ukrainian victory, but he immediately warns that it's far from guaranteed to remain the same tomorrow.
On aircraft
The delivery of Western aircraft, Chmut considers Ukraine's top priority after receiving ammunition supplies. However, according to him, they are not a panacea either.
"Unfortunately, aircraft don't capture trenches. Last week, I had a meeting with Neizhpapa, the Commander of the Navy, and he said a very good phrase: at sea, just like on land, until an infantryman gets into a trench, it's not his. And at sea - until a ship reaches a designated point, it doesn't control the sea. An aircraft is a versatile tool, at sea, on land, and in the air, that allows others to control the sea or land. But they don't capture territories, they don't advance, they can do a lot, but until infantry takes over, you haven't captured, haven't returned, haven't liberated," says the Head of Come Back Alive Foundation. According to him, a lot depends on the specific model of the F-16 that Ukraine will ultimately receive and the ammo it will have.
Regarding cluster munitions, the deliveries of which to Ukraine from the USA have started recently, Chmut notes that they undoubtedly expand the capabilities of the Ukrainian army and partially compensate for problems with the ammo inventory that we lack. "But it's not like we received cluster munitions and now the pace of advancement will increase by 20%. Anything new we receive is always good, but there is no single solution. But, figuratively speaking, if we needed to fire 10 shells at an enemy infantry group before, now only two," says the volunteer.
On attacks on Moscow and the disintegration of Russia
Lately, drone attacks on Moscow have become quite routine, although just a year ago, such a thing would have been unimaginable. These attacks, Chmut says, serve a very pragmatic purpose: they force Russia to redeploy air defense systems to Moscow, thereby exposing other cities and territories and making them vulnerable to possible attacks.
Interestingly, these recent attacks on Moscow don't provoke as much concern among Ukraine's Western partners. As he says, this is because Ukraine managed to skillfully establish conditional "red lines" without breaking them.
"A year ago, if we had said that drones would fly to Crimea every day, everyone would have been very concerned. And now, something gets to Crimea every day, and it's perceived as normal. If a year ago we had said that something would fly to Moscow every other day, everyone would have been very alarmed, but now it's flying – well, let it fly. Therefore, these lines need to be pushed very gently and smoothly. And we're doing that, it works for us, and we need to continue to increase it," says Chmut.
According to the volunteer, a decisive victory for Ukraine in the war would be the disappearance of external threats. However, exactly how this will happen – whether through the disintegration of Russia, the removal of its nuclear weapons, or its withdrawal from the UN Security Council – he refrains from predicting.
"I would very much like Russia to split into some entities. Probably, this will happen in the future. But right now, our focus and attention should be directed at the battlefield, the economy, more on ourselves rather than outward. Effectiveness on our battlefield contributes to processes happening there," says Chmut.
An important point, as the volunteer assures, is that official Russian casualties in the war (which by now have exceeded 250,000 people) are quite accurate. "Now it's a digitalized war, snipers don't get any credit without video confirmation. There are drones, everything is in photos and videos," he says.
On politics
In political circles, Chmut's name often comes up in the context of his potential involvement in politics in the upcoming elections. However, he says he's not interested in that, and he hasn't received any political proposals. Instead, Taras emphasizes the apolitical nature of the Come Back Alive Foundation and says it greatly aids his work. "We, as a foundation, and I personally, are a bit on the sidelines of politics, and we really like it because we don't enter that field, and we're fine with it," says Chmut.