War for light: How and when Russia could initiate attacks on Ukrainian energy infrastructure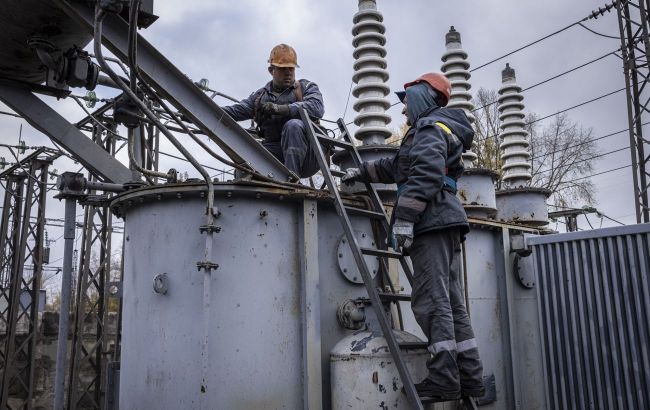 With the onset of cold weather, Russia may launch massive attacks on Ukrainian energy infrastructure (photo: GettyImages)
Russia is likely planning new attacks on the Ukrainian energy system. The only questions remain - how and when the enemy could initiate new strikes and the quantity of drones and missiles they have for this purpose.
During the preparation of this material, comments from the spokesperson of the Air Force Command Yurii Ihnat, and the representative of the Defense Intelligence of Ukraine Major General Vadym Skibitskyi were used.
With the onset of cold weather, Russia may once again attempt to disrupt Ukrainian energy infrastructure. This has been warned about for several months by the military, government officials, and experts. Several factors and events indicate that the enemy is indeed preparing for such attacks.
Sometime in the summer, the aggressor began to intensify its reconnaissance of Ukrainian energy facilities. And from September onwards, they significantly reduced the number of missile strikes, apparently trying to accumulate the necessary supply. The third factor is that the Russians have already attempted such a terrorist approach and have come relatively close to achieving their goal. In November, December, and January, power outage schedules looked more like schedules for electricity supply. However, starting from the end of February, Ukrainians once again had an uninterrupted power supply in their homes.
The reason for the Kremlin's plan failure is not only the ingenuity of our energy experts but also the problems and miscalculations on the part of the Russians. However, they have now learned from their previous mistakes and, unfortunately, will approach new attacks more thoughtfully.
When and how
Last year, the Russians began their attacks on energy infrastructure on October 10, allegedly in response to an attack by the Ukrainian Security Forces on the Crimean Bridge. In reality, the Kremlin used this as a formal pretext, as these attacks had been prepared in advance and were only initiated earlier under pressure from angered radicals. 45% of the rockets launched from October to February were used before the onset of winter cold. This is one of the key factors that Moscow will consider this year, as lower temperatures mean a higher load on the energy system and greater susceptibility to damage.
"It is most likely that they will start when there is a higher load on our energy system and, accordingly, more favorable conditions for attacks. This may occur during the onset of cold weather when electricity consumption reaches its peak in the fall-winter period. The Russians are waiting for the temperature to drop below zero," said Vadym Skibitskyi, a representative of the Ukrainian Defense Intelligence.
Russia may start its attacks when the temperature drops below zero (Photo: GettyImages)
Ultimately, this is not the only lesson learned by the Russians. Regular salvos of 70-100 rockets significantly depleted their supplies and did not achieve the desired results in the end. Therefore, Moscow is likely to experiment with attack patterns and tactics now.
A highly theoretical scenario involves the Kremlin planning to launch one extremely massive attack with hundreds of rockets to swiftly destroy Ukrainian energy infrastructure. However, considering technical limitations and Russia's combat capabilities, such a scenario is highly unlikely.
To achieve a cascading and more destructive effect, they need to simultaneously target all critical points of the energy system, Skibitskyi explains. Some rockets will hit their targets during one attack, while others will be shot down and won't reach their intended destinations. Reconnaissance will follow, damage assessment, and planning for the next strike. That's why the aggressor is likely not to limit themselves to a single attack, according to the intelligence.
Yurii Ihnat, the spokesperson for the Air Force Command, suggests that the enemy will rely on strike drones (Shaheds) in their attacks on the energy infrastructure. Moreover, while last year the Kremlin was entirely dependent on supplies from Iran, Russia has now started its production of these UAVs.
"Assembling drones is easier and cheaper. To replicate the scenario the Russians implemented last year, a large number of rockets are required. Therefore, it can be assumed that this time, drones will be used in larger proportions compared to rockets, more than the 50-50 ratio of last year," says Ihnat.
According to Skibitskyi, it is currently very difficult to predict whether there will be more rockets or Shaheds. Likewise, it is challenging to forecast the tactics and patterns of potential attacks on the energy system.
"It can vary. These could be attacks using exclusively different types of rockets, or they could be combined attacks involving both rockets and drones. Nevertheless, according to military intelligence estimates, these will certainly not be as primitive as last year's attacks," explained the intelligence representative.
A common prediction among analysts and experts is that the Russians will resort to combined attacks using both drones and guided missiles, as well as ballistic missiles. Last fall and winter, the adversary used a few ballistic missiles for energy attacks, except for the Kh-22 and S-300. Given the strengthening of Ukrainian air defenses, there may be more ballistic missiles in rocket barrages now.
The Kremlin may use a new scheme and tactics for shelling Ukrainian energy facilities (photo: GettyImages)
However, according to the assessment of the Defense Intelligence, the enemy will use more cruise missiles, not ballistic ones. The Kh-101, Kh-555, and Kalibr missiles will be the primary strike elements, says Skibitskyi. The fact that Russia has not used these missiles since September 25 may indicate their accumulation.
Reserves and production
Since spring, Moscow has been gradually increasing missile production, seeking any loopholes in international sanctions. According to intel provided to RBC-Ukraine, the enemy currently has approximately 870 high-precision missiles of operational-strategic and strategic levels, capable of hitting targets at a distance of over 350 kilometers. This includes approximately 165 Kalibr missiles, about 160 units of Kh-101, Kh-555, and Kh-55 with warheads, around 290 units of Iskander-M and Iskander-K, roughly 80 Kinzhals, as well as 150 Kh-22/Kh-32 missiles. The effective range of the Kh-22 missile is 350 kilometers.
Skibitskyi clarified that the figures were almost the same as last year. This, according to him, suggests that Russia has managed to establish missile production and maintain it at a sufficient level to accumulate a missile stockpile.
"Of course, the Russians cannot use all their missiles completely – they must keep at least 30% in their reserves. If they launch almost everything at our energy system and do not achieve the desired result, someone will be held accountable. Achieving the result will be difficult for them as well – we are also preparing and understanding how they operate, what they are scouting, and accordingly taking measures to protect our energy system," added the intelligence representative.
Regarding production, in October, the Russians managed to produce about 115 high-precision missiles with a range of over 350 kilometers. Among them, according to Skibitskyi, there were about 20 Kalibrs and about 40 Kh-101 missiles. Additionally, the enemy produces about 30 ballistic Iskander-M missiles and 12 cruise Iskander-K missiles each month. Furthermore, there is a modernization of Kh-22 missiles, which the adversary is converting into Kh-32. This involves small numbers – approximately 9 units per month. As for Kinzhals, in October, according to intel, they produced 4 missiles. Additionally, in military intelligence, it is said that the Russians have started improving anti-ship Onyx missiles for use against ground targets.
The situation is somewhat better with Shahed drones in Moscow. Work has already started at the plant in Yelabuga, where the Kremlin wants to establish large-scale production. As Skibitskyi explained, this plant only performs the final assembly of kamikaze drones, known as Geran-2. However, other adjacent factories in Russia supply components for these strike UAVs. In a recent interview with RBC-Ukraine, another representative of military intelligence, Andrii Yusov, said that the aggressor is currently capable of independently producing several dozen analogs of Shaheds per month.
Kh-101, together with Kh-555, Kalibrs, and Shaheds could be the main elements of attacks on energy facilities (Photo: nakes science.ru)
"The enemy planned to produce at least 200 Shaheds per month. However, in reality, they produce fewer. The Russian Federation has only recently begun to increase production, and for the most part, it involves assembling components supplied from Iran," Skibitskyi clarified.
The Ukrainian intelligence does not rule out that Iran may still be sending Moscow small batches of ready Shaheds. However, the initial contracts have already been fulfilled by Tehran. Therefore, the intelligence currently does not detect active movement of ready Shaheds from Iran to Russia.
Ukraine is now better prepared for possible shelling than last year. According to Ihnat, Ukrainian experts are analyzing the enemy's new tactical maneuvers and improving methods to counter them. Ongoing work is being done to supply new air defense systems, both against drones and missiles, and to replenish the stockpile of anti-aircraft missiles for them. RBC-Ukraine has already provided detailed information on the state of Ukrainian air defense in one of its recent materials.
After previous attacks, our energy facilities have better physical protection but have a lower reserve of strength. There is no reason to believe that the enemy will not take advantage of this. Considering Moscow's rhetoric, they might not be against suspending the war right now, but with the retention of our occupied territories. The Kremlin is currently counting on the fact that after twenty months of suffering, terror, and losses, darkness is the Plan B that will make Ukrainians give up the fight.