There is no reason to believe Russia changed tactics of shelling Ukraine - Intelligence officer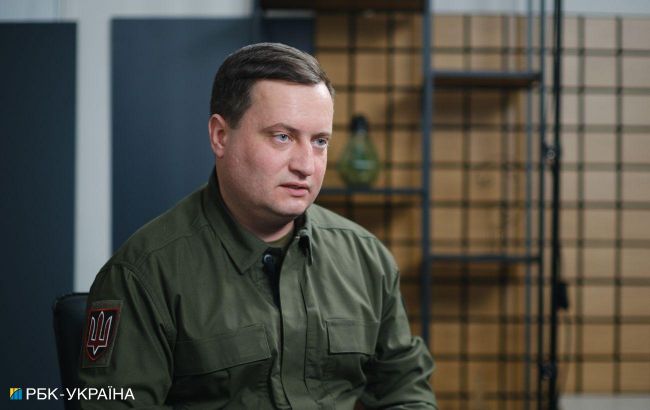 Andrii Yusov, representative of Defense Intelligence of Ukraine (All photos: Vitalii Nosach, RBC-Ukraine)
In an interview with RBC-Ukraine the representative of the Intelligence Directorate of the Ministry of Defense of Ukraine, Andrii Yusov tells about Russia's missile and Shaheds stockpiles for possible attacks on Ukrainian energy facilities, Moscow's plans for Ukraine for this winter, whether Putin decided to conduct a new official mobilization, and what role Russia plays in the HAMAS attack on Israel.
Kremlin's plans to attack the Ukrainian energy system again
Ukraine is preparing for the continuation of terrorist attacks from Russia, says Yusov. And there is no reason to believe that the enemy has changed its tactics and will not target the Ukrainian energy infrastructure this fall and winter.
"The irrational and ineffective use of the enemy's missile arsenal that we witnessed last year when over a hundred missiles could have been launched at Ukraine, did not yield results, but, on the contrary, only depleted its stocks. Well, it would be strange if they repeated such a thing this year. But any missile strike - be it 20, 30 missiles, or 100 - is a serious challenge and threat to the infrastructure and the Defense Forces of Ukraine. And, undoubtedly, these challenges need to be considered," said Yusov.
Russia's missile stockpiles
According to the Defense Intelligence Directorate, Russia does not have the same missile stockpiles as it did as of February 23, 2022. However, it continues production, and currently, it even exceeds pre-war levels.
"But back then, it (production - ed.) was relatively small-scale. The key here is how much they have spent and how many modern types of weapons they can produce. So, they have indeed increased missile production in some positions. But does this allow them to replenish their lost arsenal? No," explained Yusov.
Russia is deploying production of attack drones
In Russia, a large-scale assembly is organized (using foreign parts), and a certain amount of domestically produced analogs of Iranian kamikaze drones Shahed-136. However, according to Yusov, this production is not significant. He clarified that the aggressor is deploying the production of these drones in Tatarstan. "The planned and achieved results differ. At the moment, the aggressor state can independently produce several dozen analogs of Shaheds per month," he said.
In addition, Russia has launched the production of two other types of attack UAVs - Izdeliye-53, which is supposedly a new version of the Lancet, and Izdeliye-54 - the so-called Italmas. Currently, Ukraine's intelligence is gathering information about these drones.
"First and foremost, we note that their mass use on the front lines has not happened yet. But when it comes to their capabilities for automatic correction, targeting, and target recognition, that is a subject of debate. There is some information from Russian media. Certainly, we cannot rely on it. Our analysis is ongoing. Nevertheless, we note that the modified, improved Lancets are being used by the aggressor. And this is always an additional risk factor," Yusov explained.
As for Izdeliye-54, it is positioned in Russian propaganda as a simplified and cheaper version of Shahed-136. The name Italmas comes from the trade complex where the assembly and production of these UAVs take place.
How Iran and North Korea are helping Russia in the war
According to intelligence reports, in addition to drones, Russia wanted to obtain ballistic missiles from Iran. However, such deliveries have not been confirmed, and there is no concrete evidence of Moscow receiving this weaponry. Another ally of Russia is North Korea.
"In the case of North Korea, this is quite extensive. How much it overall affects the situation is difficult to say at the moment. There is evidence of interaction and cooperation between them. The transfer of artillery shells and projectiles for rocket artillery systems is documented. We won't speculate on what North Korea receives in return, but it's unlikely to be related to food," explained Yusov.
Why Putin announced patrolling the Black Sea with Kinzhal carriers
Putin's statement about patrolling the Black Sea with Kinzhal carriers, like many other cases, is not intended for Ukrainians but for the Western audience.
"For us, nothing has changed here because the same aircraft equipped with Kinzhals have already been in the Black Sea waters, and Ukrainian territory has been within their reach. So, there is no news for us here. This is aimed at increasing a certain level of tension and blackmail, primarily for the Western audience, the European Union, and NATO member countries," said the representative.
According to Yusov, Putin is unlikely to deploy the MiG-31K aircraft, which carries Kinzhals, to Crimea.
"When it comes to basing them in Crimea, given recent events, the enemy's news, and their behavior there, they are trying to be as cautious as possible about deploying forces and assets on the occupied peninsula," he explained.
About the illegally built Crimean Bridge
The Crimean Bridge is an illegal structure primarily used by Russia for military purposes. Therefore, it is a legitimate target for the Ukrainian Security and Defense Forces and is considered redundant.
As Yusov explained, the enemy is transferring forces and assets to the temporarily occupied Ukrainian territories in the Kherson, Zaporizhzhia, and parts of the Donetsk regions, specifically to Mariupol through the Crimean Bridge.
"Mostly, traffic to the occupied territories in the South of Ukraine goes through Crimea. The so-called land corridor directly from Russia also exists. It is used primarily for supplies, with the main flow coming from the occupied Crimea," said Yusov.
Prigozhin and Wagner PMC
Defense Intelligence of Ukraine claims that there is no definitive proof of Prigozhin's death. Some individuals associated with his Wagner PMC want to use the brand and rebuild the structure.
"Regardless of any public decisions that may be announced, we can observe that the group that was previously formed and called the Wagner PMC has essentially ceased to exist. The continued use of this brand to some extent, and the involvement of certain individuals associated with it, will certainly happen. However, this is a situation where you can't step into the same river twice," said Yusov.
He clarified that some former Wagner members are reappearing on the front lines as individual fighters, but they are scattered among various units of the regular army. According to Yusov, Russia is also trying to create an alternative to the Wagner PMC.
"We see the formation and deployment of conditional alternatives, such as Redut, Storm Z, and so on. However, none of the mentioned structures can compare in terms of quantity or technical equipment to the Wagner PMC at its peak," Yusov explained.
What to expect from Russia on the front
With the forces and means currently available to Russia, it can only conduct localized offensive operations on specific fronts. For example, the actions of the aggressor that we see in the Avdiivka area. Without a public mobilization as it was last fall, Putin would have a hard time launching a larger offensive operation. Therefore, the decision for a new wave of public mobilization was seriously considered and was literally on the table of Russia's military-political leadership, according to intelligence.
"However, this decision has not been implemented, and it is currently postponed for various reasons. One of these reasons is the fear of destabilization and protest processes within the Russian Federation, which is an extremely unstable entity with numerous internal problems. The first wave of this so-called partial mobilization highlighted some of these problems vividly. Therefore, this decision is under consideration, but as of now, it has not been taken," Yusov said.
Russia's role in Hamas attack on Israel
According to Yusov, Russia actively uses terrorist attacks on Israel as part of its war against Ukraine. Russia's official contacts with Hamas are public. Yusov added that even before the Hamas attack, Russia had provided them with certain samples of small arms that had been captured from Ukrainian forces on the front. Moscow decided to carry out this provocation to later accuse Ukraine of allegedly selling and supplying Western weaponry to the militants. Furthermore, according to the intelligence, Wagner PMC and other Russian PMCs assisted in training Hamas.
Wagner PMC members were used as communication channels and to transfer information, providing training to pass on the experience of the Russia-Ukraine war. The use of drones against Israeli armored vehicles, for example, is a clear confirmation of this, according to Ukrainian intelligence.
Russia is one of the key centers of xenophobia and anti-Semitism in the world. The rallies that occurred there, such as in Makhachkala (Dagestan), are further confirmation of this.
"The Putin regime, in essence, is xenophobic and anti-Semitic. How often the Russian dictator, or those resembling him, mentions the Jewish origin of the Ukrainian president, and how often such notes are heard in various statements by Lavrov and other Russian officials - this is additional confirmation," Yusov said.
He emphasized that the resonant incident in Makhachkala, where demonstrators attempted to storm the local airport, could have other, more hidden goals. It is noteworthy that law enforcement initially did nothing to stop the crowd. Therefore, this rally could be the result of a certain confrontation between Russian elites and security forces.
"These events, as well as the Prigozhin's attempted revolt, are a very serious blow personally for Putin and his regime. Dictatorships are ready to be endured both from within and often from outside if they provide some stability and control over the territory they govern. Putin has once again demonstrated that he guarantees nothing. And if this regime doesn't ensure the safety of even those who support it, then what are we talking about?" said Yusov.
He also added that the Russian Federation remains a prison for dozens of colonized nations. Therefore, the Kremlin may use the provocation in Makhachkala to intensify repression and suppress potential protest sentiments in the North Caucasus, because the local population there is potentially the most ready to continue the fight for their independence and rights.