Starting from €900: Housing prices in Germany's largest cities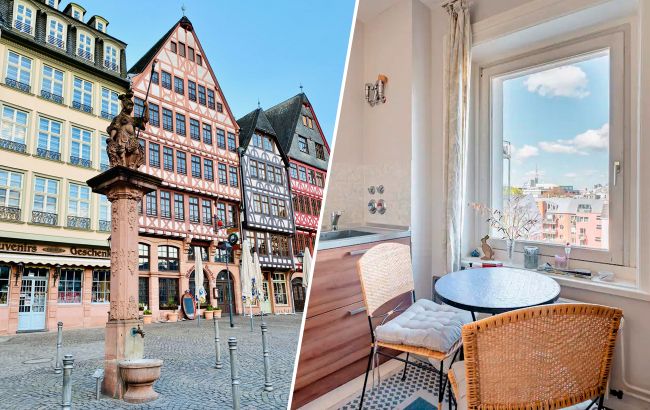 Housing prices in Germany (RBC-Ukraine collage)
Rent in Germany, as in other European countries, constitutes a substantial portion of expenses. Currently, Germany is home to one of the largest amount of Ukrainian refugees. Sometimes, they manage to get free housing, but it is not always the case. RBC-Ukraine reveals the cost of renting and buying property in Germany.
Apartment rent in Germany
Historically, renting apartments in Germany has been much more popular than buying them. In the past 30 years, 57% of all accommodations in the country were rented, while about 43% were owned by individuals who had purchased them.
According to the latest data from the Numbeo service, the average rental prices for apartments in the biggest cities in Germany are as follows:
€854 for a one-bedroom apartment in the city center
€627 for a one-bedroom apartment outside the city center
€450 for a room in a shared apartment.
Note that rental costs can vary significantly. The average figures mentioned above apply to the entire country, but the actual cost can vary in individual cases.
Here are the average rental prices for one-bedroom apartments in the six largest cities in Germany:
Munich: ranging from €1023 in remote areas to €1366 in the city center
Berlin: ranging from €907 to €1331
Stuttgart: ranging from €787 to €1278
Frankfurt: ranging from €878 to €1143
Hamburg: ranging from €803 to €1056
Cologne: ranging from €678 to €906.
Utility services and broadcasting fee: additional expenses to consider
In addition to the rental cost, you will also need to pay for utility services such as waste disposal, electricity, heating, and water. For an 85-square-meter apartment, this will amount to an average of €246 per month. Interestingly, the cost of utility services varies minimally across different regions of Germany.
Tenants in Germany are always required to sign a contract, which typically costs an average of €35 per month.
Broadcasting fee (Rundfunkbeitrag): In Germany, every household is required to pay a fee to finance public broadcasting. The current fee is €18.36 per month. This fee is charged regardless of whether you watch German television or listen to German radio. Since the fee is levied per household, it can be divided among tenants if you live in a shared apartment.
Security deposit
When renting an apartment in Germany, you will need to provide a security deposit. The landlord uses this deposit to cover any potential damages caused to the property during your stay.
If there are no damages at the time of moving out, you will get your deposit back, which will be transferred to your card or bank account. The security deposit for an apartment typically amounts to 1-3 months' rent. If your monthly rent is €1000, the deposit will likely range from €1000 to €3000.
Note that these deposits are usually returned later, not immediately after moving out. Therefore, if you don't have additional funds, it is better to save them in advance. However, the deposit should be refunded no later than 3-6 months after the end of the rental period.
Apartments in Germany are rented without furniture
If you are renting an apartment for a few days, it will typically come equipped with all the necessary furniture. However, for long-term rentals in Germany, it is common to rent accommodation without furniture. No kitchen, appliances, beds, or anything else – this often surprises Ukrainians who are accustomed to renting fully furnished homes. A bathroom is usually present, but it may be limited to a simple shower.
By the way, due to active migration to Germany from other countries, the market for furnished apartment rentals has been developing rapidly.
Tip: In Germany, there is a well-developed market for used goods. It is worth monitoring advertisements in local communities, as you can often buy a sofa, bed, or other furniture at a significantly lower price than in stores.
Additionally, when moving into an apartment in Germany, it is often possible to purchase furniture, including the kitchen, from the previous tenant who is moving out of the same residence. This can be a much more practical option than searching for furniture in home goods stores.
But why are most apartments in Germany rented without furniture? The reason is that many people live in rented apartments as if they were their own homes, sometimes for decades or even a lifetime. Tenant rights ensure that it is almost impossible to evict them if they pay rent conscientiously and abide by all the rules. As a result, people treat the accommodation as their own property, investing in kitchens, beds, and sofas for long-term use. Presumably, they invest more in the kitchen than a typical landlord would be willing to invest in the rental. On the other hand, the rent is significantly cheaper than in most parts of the world.
List of websites to search for housing in Germany
When searching for rental properties, pay attention to who is offering them – the property owner or a real estate agent.
The price may vary in these cases. Accommodations can be offered by different individuals: landlords (Vermieter), previous tenants (Vormieter), property managers (Hausverwaltung), real estate agents (Makler), tenants seeking subletting (Untervermieter), or roommates (WG-Bewohner). Pay attention to whom you are dealing with.
ImmobilienScout24 - the largest platform for finding accommodation in Germany. It has both paid and free versions.
eBay Kleinanzeigen - the German version of websites like Craigslist or Gumtree. Here, there are no real estate agents, only individuals.
Immowelt.de - the second-largest platform for property search in Germany. It offers private listings as well as apartments from agencies. The website is free for tenants.
Wohnungsboerse.net - here, you can also find comprehensive information about the listings and contact the landlords.
WG-Gesucht - another website for finding rental apartments, the largest resource for finding shared housing in the German market. Many offers are available for temporary stays.
Previously, it was reported that Romania, Bulgaria, and Poland are the cheapest countries in the EU to live in, with the lowest prices for everyday goods.
It was also revealed which capitals in Europe offer the lowest cost of living.