Shutdown schedules and generators again? What should Ukrainians expect this fall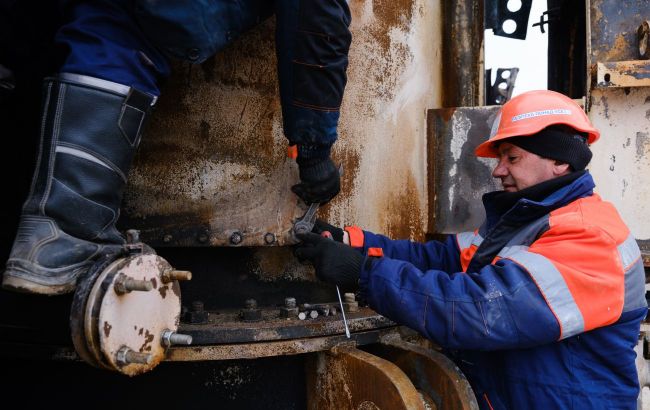 Energy equipment repairing (Photo: Vitalii Nosach, RBC-Ukraine)
As winter approaches, Russians may be closer to initiating new attacks on the energy system. What should Ukrainians prepare for in such a scenario, and could the situation be more challenging than the previous heating season? Details are in the following report by RBC-Ukraine.
It is already the middle of summer, and it might seem like there are still three whole months left before the start of the heating season in Ukraine. However, it can already be said that the energy system won't be fully restored in time after the Russian attacks last winter.
Sources within the Ukrainian government and experts in the field assert that the country will face significant energy constraints entering the heating season. These claims are supported by publicly available data.
Following the winter attacks, according to UNDP data, the country's power generation capacity decreased by almost half, from 37.6 GW to 18.3 GW.
Thermal generation, which serves as maneuverable capacity, saw a 68% decline, reaching 4.6 GW, while nuclear power suffered a 44% reduction due to the loss of the Zaporizhzhia Nuclear Power Plant, leaving it at 7.7 GW. Additionally, hydroelectric power capacity decreased by 29% to 4.7 GW, and the capacity of renewable energy sources shrank by a quarter, reaching 6.2 GW.
Nearly half of the 94 high-voltage transformers have been destroyed, and over 40% of Ukrenergo's (national energy company) major transmission lines have been damaged. The total losses, as reported by the World Bank, have exceeded $10 billion USD and continue to rise.
Generation capacities are already limited
Renewal works on energy facilities picked up towards the end of winter, after a decrease in the intensity of attacks in February. At that time, a surplus of electricity emerged in the system, and small amounts were even exported.
However, export is not a consideration now. Due to increased summer consumption, generation is barely sufficient to cover the demand, and shortages often occur. If high temperatures persist, the threat of electricity shortages will persist until the end of summer.
Currently, power plants capable of generating electricity are limited due to ongoing repairs. This significantly impacts the supply of electricity to consumers, especially during evening hours when solar generation decreases.
Peak consumption has increased due to the heat. While in May, peak hours were from 7:00 PM to 10:00 PM, now they extend from 4:00 PM to 11:00 PM. During this period, the public is urged to conserve electricity since the maximum import capacity of 300 MW is insufficient to meet demand.
"For example, to meet the increasing consumption needs during evening peak hours, we would need a power capacity equivalent to the production of one nuclear power unit and several thermal power plants," said officials from Ukrenergo.
During the previous winter, the economy allowed for a 10-15% reduction in consumption, equivalent to the capacity of a large thermal power plant or hydroelectric station or 1.5 nuclear power units.
Transmission networks
Currently, Ukraine's energy system has partially been restored. The increase in available generating capacity and partial recovery of electricity transmission and distribution networks have improved the operational safety of the energy system and reduced the risk of shortages, according to UNDP. However, following the seasonal flooding and the possible repair of several nuclear power units, the energy system may still experience electricity shortages.
Ukrenergo has accelerated the pace of restoration works, completing them 5-6 times faster than during peacetime. Over 1,500 specialists are engaged in these repairs. For example, replacing a high-voltage auto-transformer used to take several months, but now it is completed within one to two weeks. Furthermore, the company notes that work on 330-750 kV high-voltage lines is carried out without power disconnection, allowing consumers to maintain their energy supply.
The goal is to prepare the system to handle peak winter loads before the upcoming heating season. Currently, Ukrenergo has completed nearly 60% of the planned work on the transmission networks. The functionality of 80% of the damaged substations has been partially restored.
To achieve this, repairs and replacements of high-voltage auto-transformers are underway. More than half of the required equipment has been procured, according to Ukrenergo. Diagnostics and replacements of outdated equipment on the networks and substations are ongoing. Measures, such as applying backup power systems and passive protection of facilities, which involves relocating them to safer locations, are being implemented to reduce the risk of damage. Over 900 million euros in credits and grants have been mobilized for the execution of the entire set of works.
New high-voltage transformers have already begun to be imported into Ukraine. By October, there could be 7-8 units, predicted Oleksandr Kharchenko, the Director of the Energy Research Center, in an interview with RBC-Ukraine. Specific data is not officially disclosed due to security concerns.
However, despite all efforts, it's unlikely that all the necessary new equipment will be delivered and installed before the beginning of the winter season, according to the United Nations Development Program (UNDP). The problem lies in the lengthy manufacturing process of complex equipment, such as transformers, which can take up to 6 months.
"In general, this means that the system remains extremely vulnerable to a wide range of threats, including constant attacks on the energy infrastructure, droughts leading to reduced hydroelectric power generation, extended repairs of nuclear power plants, as well as rapid demand recovery," noted the UNDP in its latest assessment of the damages to Ukraine's energy system.
Thermal power generation being reinforced for the winter season
At the end of the winter, there was not a single thermal power plant or major combined heat and power plant in Ukraine's controlled territories that hadn't experienced varying degrees of damage due to shelling. However, now all 9 thermal power plants and the largest combined heat and power plants on controlled territories are operational with partial loads, thanks to the high pace of recovery works. Available thermal power generation capacity has been increased from 4.5 GW at the end of December 2022 to 6 GW by the end of March 2023, as reported by the UNDP.
The thermal power generation facilities have been preparing for the next winter for 5 months already. "Since the end of this winter, we have been intensively preparing for the next one," said DTEK, an energy company, to RBC-Ukraine. During this time, they conducted 7 scheduled repairs of thermal power units, with 7 more still ongoing. For these repairs, they spent 1.5 billion hryvnias in the first half of the year. In total, they plan to spend 3.5 billion hryvnias to eventually restore 27 energy units. Furthermore, an additional 7 billion hryvnias are needed to invest in the restoration of equipment damaged in the attacks.
Nuclear power generation
The volume of nuclear power generation has decreased compared to the corresponding period in 2021, from 29 TWh to 19.5 TWh, or by 32.8%. The absence of the Zaporizhzhia Nuclear Power Plant is partially compensated by increased generation at three working nuclear power plants. The repair schedule for the power plant units has been formulated in a way that all units of nuclear power plants in Ukraine's controlled territories will operate during the heating season, according to Energoatom (national nuclear energy generating company).
There should be enough fuel reserves for nuclear power plants. "We have a reserve of 5-6 years," said the company. Among the reserves is still Russian fuel, which they have been accumulating gradually and will continue to use until fully transitioning to American fuel from Westinghouse.
Sufficient gas supply
There shouldn't be any problems with the gas supply next winter either. Gas transportation and distribution systems have not suffered significantly from shelling. Gas production has decreased by 6-7% due to the loss of territories with some deposits temporarily going out of Ukraine's control.
The average daily natural gas production in April 2023 was 47.8 million cubic meters, which is 5.3% less than the previous year. Even Naftogaz (the largest national oil and gas company of Ukraine) predicts that they won't need to import gas this year. Gas supply problems may arise in the event of a halt in gas transit from Russia. However, the mechanism for delivering gas from storage facilities in the western regions to the eastern regions was already worked out back in 2009.
Major risks
Even with the relatively warm winter and the pace of energy infrastructure recovery, it is hoped that there won't be significant problems with the energy supply. Kharchenko believes that restoring infrastructure by 15-20% will meet the electricity demand for the next winter. "This will be enough to cover the current needs of the Ukrainian energy system for electricity transportation," he stated.
However, there is one quite serious risk that could drastically change the situation - the resumption of shelling of energy facilities. Kostiantyn Mashovets, the coordinator of the "Information Resistance" group, is convinced that this is likely to happen. "In my subjective view, this is not just possible. They (the Russians - Ed.) will do it," he said in an interview with RBC-Ukraine.
Russia's potential for shelling only increases, according to the spokesperson of the Air Force Command of the Armed Forces of Ukraine, Yurii Ihnat. This may be indicated by the construction of factories in Russia producing drones that have been used to attack energy facilities along with missiles. Russia is also increasing production of "Lancets" and intends to gather "Shaheds" (unmanned aerial vehicles). "We cannot rule out that they will try to bother us again, perhaps with targeted strikes on some fuel and energy sector facilities," he noted in a comment.
Diesel generator on a street of Khmelnytskyi city (Photo: Getty Images)
In the event of such a scenario, the situation would be challenging, but a large-scale blackout is not expected, according to Hennadii Riabtsev, the director of the "Psycheia" Center. "The likelihood of a total blackout in Ukraine will be extremely low. Even powerful attacks from Russia on critical energy infrastructure are not capable of causing a complete and prolonged shutdown for most consumers," the expert stated.
Although the situation may be even more complicated than last winter when the entire country lived according to scheduled power outages and learned to use generators and chargers, Ryabtsev pointed out that "the reliability of the energy system is lower than in the previous heating season since the energy balance is fragile, and there are not as many reserve capacities compared to the previous year." The maneuverable capacities, primarily from thermal power generation, which were mostly intact last year, are now not as robust and prone to failure after maintenance.
On the other hand, a significant number of consumers, both industrial and residential, have already prepared for the heating season by equipping themselves with alternative generation devices.
What is also crucial is that Ukraine has managed to strengthen its air defense system in recent months, obtaining the latest Western models to protect against Russian attacks. Additionally, allies promise to provide a series of systems that offer hope for countering hostile missiles and drones during the winter and safeguarding the energy infrastructure.