Lessons amid alerts: How schools will operate in Ukraine and what parents should prepare for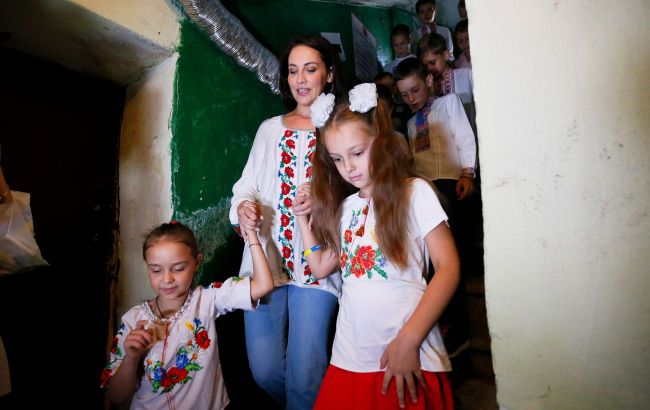 Photo: Children should be in shelter during air raid alerts (Getty Images)
How Ukraine is preparing for the new school year in the midst of war, what forms of studying have been introduced in different regions, and what challenges children, parents, and teachers are facing, read in the article by RBC-Ukraine.
In Ukraine, preparations for the new school year are underway - the third one under the conditions of war. Education in schools will take place in three different formats - in-person, online, and hybrid. The specific format will be determined by military administrations and local authorities. The availability of shelters in schools is not the only concern for parents. There is a risk that there won't be enough teachers, as many of them left the country since the beginning of the Russian invasion and haven't even been able to teach online.
Focus on shelters: What formats of studying have been introduced in schools
To start the educational process in person, a school must have shelter. In the event of missile threats, children and teachers should continue their lessons in bomb shelters. But even if there is shelter, it may be too small to accommodate everyone. In-person education is possible if the shelter can accommodate everyone - both students and teachers. It is also possible to alternate learning: during the day, week, month, and semester, according to the press service of the Ministry of Education.
The hybrid format combines in-person and online learning. Lectures can be conducted remotely, while laboratories, practical sessions, and exams are held in person. The Ministry of Education and Science believes that, whenever possible, primary school education should be conducted in person to allow children to socialize more.
The format throughout the year may change depending on the security situation. The duration and structure of lessons, the school day, and the week are determined by the educational institution's pedagogical council.
Precisely because of the risks of danger, attendance at school is now generally not as strict as before. Air raids and shelling exhaust both parents and children. If parents do not agree with in-person learning, they can choose another form: online, family-based, or external.
The importance of safety over tests has been emphasized by the Minister of Education, Oksen Lisovyi, on several occasions. According to him, we need to be realistic and understand that a tired child is unlikely to absorb the material during a lesson and maintain the necessary level of concentration. And if a student misses a test, they should be given the opportunity to hand in a paper later.
Photo: The main requirement for starting in-person learning in schools is the availability of shelter and a secure situation in the region (Getty Images)
"'What do we do if there was an alert at night, we were in the shelter with our child, and in the morning, classes begin - how should we handle it?' This is a question that is not regulated by norms but requires a common-sense answer. In my opinion, if a child hasn't had enough sleep and feels tired in the morning, they shouldn't be forced to attend the first lesson. It's normal to miss a class and catch up on the material later. For example, on the All-Ukrainian Online School platform," the minister noted.
The same applies to teachers: if they are conducting a lesson remotely and cannot continue it due to an alert, "it's not a catastrophe," he added.
How many schools are ready for in-person studying?
As of August this year, 75% of schools in Ukraine have shelters in place, according to information provided by the Ministry of Education to RBC-Ukraine. In Kyiv and the Kyiv region, plans are underway to resume in-person studying, and the number of shelters in schools is currently being increased. Most schools in the Lviv region will also resume the in-person educational process. The head of the Lviv Regional State Administration assures that only 7 institutions out of more than a thousand lack shelters. In the Mykolaiv region, schools declare readiness for shelters, but due to frequent shelling in the region, they lean toward online learning.
In the Kherson region, which is under almost daily shelling, children will attend classes online, while the Zaporizhzhia region will implement a hybrid format of learning. Sumy region has introduced all three formats: in-person, online, and hybrid. In the Kharkiv region, a return to in-person learning is not currently being considered in any educational institution.
When making these decisions, the condition of these shelters and the security situation in the territorial community or region should be taken into account, says the Education Ombudsman, Serhii Horbachov, in a comment to RBC-Ukraine. Because in areas near the conflict zone, participants of the educational process may not have time to move to shelters in a timely manner. Therefore, distance learning should be organized there.
"Much depends on the actions of local authorities because founders of institutions, that is, local councils, are responsible for the material and technical support of shelters. In April of this year, a state-targeted subsidy of UAH 1.5 billion (USD 427 million) was allocated for the arrangement of shelters in general secondary education institutions. And this money should already be used in communities to ensure the start of the new school year," he explains.
Photo: Many schools are overcrowded, and parents are concerned that there will be enough shelter for all children (Getty Images)
Parents should personally inspect the shelters in the institution. The Office of the Education Ombudsman has made recommendations on where and how to find out about the allocation and use of funds for safety measures in educational institutions.
Returning to school after living abroad
On September 1st, for the first time since the Russian invasion, children who left the country to live abroad, some as early as last winter, will return to school in Ukraine. Many of them have already had the opportunity to study in local European schools. Those who intended to return soon juggled both foreign and Ukrainian programs simultaneously.
Olena Hryniovska left with her two children for Lviv on February 24th. Later, colleagues from the international company where she works found them an apartment in the Polish city of Lodz. After 14 months of living abroad, the family returned to Ukraine, and the children will attend school again in their hometown of Irpin.
"My older 15-year-old son studied in a local lyceum in a class for Ukrainians. My daughter joined a regular Polish school's first grade and started studying in Polish right away. We didn't plan to move and stay in Poland. We hoped that everything would end soon, and we would return home. So, we didn't part with the Ukrainian school and tried to keep our children in the Ukrainian context," says Olena to RBC-Ukraine. Her son and daughter will return to the same schools they attended before this fall.
Olena Hryniovska's son attended the Polish lyceum more for socialization and was not very keen on studying all subjects. On the contrary, her daughter liked the Polish school very much. In four months, she learned the Polish language well enough to study in it. When she moved to the second grade, she scored 6 out of 6 on her Polish language tests, the highest grade given to everyone in the class.
Both school programs were challenging for the children in Poland, according to Olena.
Photo: Many children continue to study remotely in Ukraine and abroad (Getty Images)
"Learning at home means that a lot of work falls on the parents, especially when both are working. We had almost no weekends; on Saturdays and Sundays, we worked with the children using the Ukrainian program. It's hard to explain to a child of that age why they have to attend two schools simultaneously. It's tough, and you can only muster the strength to do it if you want to return home and are waiting for it to happen," she says.
Schools in Irpin are currently overcrowded, and Olena is not confident that all children can be safely accommodated there without pushing and overcrowding. Another significant problem is the shortage of teachers.
"Many teachers left abroad, and some have not returned yet. My daughter's teacher in the primary school is having maternity leave. In their class, teachers changed weekly because they couldn't find a replacement. I'm not sure that this year will go smoothly in terms of organization and the knowledge children are supposed to receive. I'm already looking for a tutor for my older son; distance learning during the COVID years and the war has affected his knowledge. And now, we have to think about university admission," the woman says.
Another issue is the shortage not only of teachers but also of textbooks for students in the New Ukrainian School, according to Serhii Horbachov. Due to economic problems caused by the war, there were difficulties with funding the printing of textbooks for 5th graders in 2022. Some of them were printed with funds from foreign states. According to the latest data from the Ministry of Education, as of early August, 18 regions received nearly 307,000 new textbooks for 6th graders. Unfortunately, these are not all the necessary books.
Attestation and online lessons: How online learning will work
During the time of Russia's full-scale invasion of Ukraine, many students began learning remotely. Some went abroad, while others stayed in Ukraine but couldn't return to their schools due to occupation and armed conflict.
According to the government's data, there are currently about a million children abroad. It's unclear exactly how many of them are participating in online education. However, the number of those studying through homeschooling has increased 14 times in one and a half years (from 4,695 in 2021 to 64,409 in 2022). The number of students studying through external programs increased from 11,346 in 2021 to 33,520 in 2022.
At the same time, the Ministry of Education reports that there are currently more than 506,000 education seekers abroad, and the trend of their return to Ukraine is "currently insignificant."
Photo: Due to the difficult economic situation in Ukraine, there were difficulties in printing textbooks for 5th graders (Getty Images)
It's too early to say how many students will be studying online this year, says Serhii Horbachov. He also has information that some parents and children abroad are not in contact with their schools. Programs for compensating educational losses need to be developed for these children. He believes that conditions should be created in Ukraine for the return of children with parents from abroad.
"The Ministry of Education has already started moving in this direction. Because there are still many questions and problems related to recognizing the results of education obtained abroad in Ukrainian schools. Difficulties may also arise, and there are already difficulties in catching up with the material and compensating for academic losses in Ukrainian subjects that the child did not study abroad, as well as catching up with material in other subjects in topics that do not coincide with Ukrainian programs," says the Education Ombudsman.
Due to the fact that Olena Hryniovska's son and daughter continued to study remotely abroad, they were not required to provide certificates from Polish schools when returning to school. They simply moved up to the next grade. They passed all exams and attestation remotely. However, in some Facebook groups, parents write that they did not obtain certificates of study abroad in a timely manner, their children have been out of the Ukrainian education process for a year, and now the issue of enrolling in local schools is still "pending."
All children who had to change their place of residence and received education in schools abroad are admitted to Ukrainian general secondary education institutions upon their return, according to the Ministry of Education. This can be done based on a parental statement.
It is very important for educational institutions to maintain a connection with those who remain abroad, and to provide the opportunity to at least acquire Ukrainian knowledge through specially adapted programs. Because the current laws in many countries regarding compulsory education in local schools essentially break the connection of our children with Ukraine, says Serhii Horbachov.
Photo: At the beginning of the new school year, children need to be reminded of safety rules because life is the highest value, says the Education Ombudsman (Getty Images)
"Only a small number of children, due to overload, can simultaneously handle two programs - the foreign school program and the Ukrainian one," he notes.
The Ministry of Education is interested in ensuring that children do not lose their connection with Ukraine and have the opportunity to continue their education in Ukraine after returning.
They recommend that Ukrainian children abroad either study in person at local educational institutions or combine their education in local schools with online learning in Ukraine using one of the forms of education: distance, family/home-based, or external. It's also possible to study in classes for Ukrainians abroad, which have been established by civil organizations in cooperation with the authorities. And, if it does not conflict with the laws of the country, children can study exclusively in Ukrainian educational institutions.
Distance learning is also taking place for children who remain in Ukraine. According to Horbachov, there are concerns about the safety of children during online lessons when an air raid alert is announced. During in-person learning, teachers can take the child to a shelter, but when learning at home, it's uncertain whether the child will go to a shelter and whether there is one near the child's residence. He urges parents and teachers to remind children of key safety rules before the start of the school year.
"I know that some schools plan to hold safety lessons on September 1st when children return to school and also conduct training on actions in the event of an air raid on the same day. I strongly support this initiative and urge schools to pay special attention to these issues. Because among all the rights of participants in the educational process, the right to life and health is an absolute priority," says the Education Ombudsman.