Fall and winter in dark again? Three scenarios for the Ukrainian energy system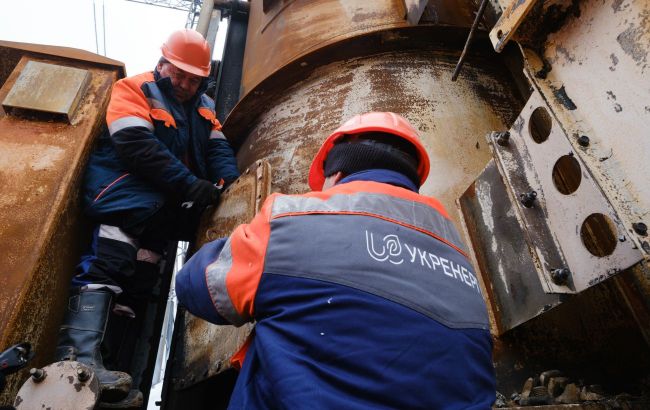 Up to 70% of energy facilities in Ukraine are restored (Photo: Vitalii Nosach / RBC-Ukraine)
There are one and a half months left before the heating season begins. Ukraine is preparing not only for winter but also for possible attacks on the energy system. Various scenarios for the situation in the coming months have been analyzed by RBC-Ukraine.
Ukraine's energy companies have almost reached the final stage of winter preparedness. They are completing repair work on infrastructure to minimize the possibility of widespread power outages, especially in the event of repeated large-scale attacks on the energy system, which is quite likely. According to Defense Intelligence, the enemy is currently studying our energy facilities, looking for their vulnerable points, and the locations of anti-aircraft missile systems.
The plan for restoration work in Ukraine's energy system is a non-public document. However, according to the latest data from the Ministry of Energy, repairs on some facilities have been completed by 70%, which aligns with the plan, as stated by the department.
In nuclear generation (NPP), 6 units have been repaired, accounting for 70% of the capacity (5420 MW), while 3 units with a capacity of 2415 MW are still under repair (30%).
In thermal power plants (TPP), 24 energy units have been repaired, accounting for 62% of the total capacity of 4337 MW.
In combined heat and power plants (CHPP), 23 pieces of equipment have been repaired, which is 70% of the total.
In hydroelectric power plants (HPP), 32 hydro units have been repaired or are in the process of repair, accounting for 68% of the total capacity of 1757.1 MW.
The Ministry of Energy has reported that all repair work is planned to be completed by the beginning of winter.
However, it can be said now that the likelihood of problems with power generation will be quite high, even if the repair plan is fully executed. In particular, there may be a shortage of coal-based generation.
Will there be enough generation in winter
Before the start of hostilities in 2022, there was 13.6 GW of available capacity from coal-based generation in the overall energy system. Based on the Ministry of Energy's figures, even if all planned repairs are carried out on thermal power plants, the total capacity will be 7 GW - nearly half of what it was previously.
Thermal generation is managed by Centrenergo and DTEK. Centrenergo informed RBC-Ukraine that it plans to provide 1200 MW of electricity by the start of the heating season, i.e., by October 15. The other 6 GW will presumably come from DTEK stations, although the company has not provided detailed information on this.
All thermal power plants, together with around 9 GW from nuclear generation, are expected to provide over 16 GW. However, according to Oleksandr Kharchenko, the director of the Energy Industry Research Center, this might not be enough, even if hydro generation increases electricity production, which is possible during a relatively warm winter. He believes that it will be difficult to avoid a deficit due to increased electricity demand during winter.
"Even with the capabilities of hydroelectric power stations and CHP plants (in major cities), will this be enough to meet the demand? Even with imports - I am very skeptical," he noted in comment to RBC-Ukraine.
By the way, importing electricity wouldn't hurt right now, especially toward the end of August when consumption increased significantly due to high temperatures. Ukrenergo (National Power Company) has been requesting emergency assistance from Europe for almost two weeks now.
"We've had a lot of problems with power consumption over the past two weeks. We've had to seek assistance from neighboring countries - Slovakia, Poland, and sometimes Romania. So, it's very challenging to cope with such situations," said the CEO of Ukrenergo, Volodymyr Kudrytskyi.
The shortage of electricity is due to the fact that the restoration of power stations has not yet been completed. According to Kudrytskyi, imports are currently almost non-existent due to price restrictions in Ukraine, which are lower than electricity prices in Europe.
Reconstruction of energy system facilities in Ukraine (photo: Vitalii Nosach / RBC-Ukraine)
Price caps for businesses were imposed by the National Commission for State Regulation of Energy and Public Utilities (NCREPU) at the beginning of the full-scale conflict in Ukraine last year to prevent an increase in domestic electricity prices. In July 2023, price caps were raised, but their new level did not solve the problem - imports did not resume. Ukrenergo has to cover the deficit with emergency electricity supplies during peak hours, which is significantly more expensive than imports.
Based on the analysis of the director of energy programs at the Razumkov Centre, Volodymyr Omelchenko, the transmission system operator has paid up to 8 million euros for emergency assistance in just the past month. "To minimize the deficit of capacities in the fall-winter period, which can reach up to 3 GW in certain hours on certain days, imports will play an extremely significant role by covering up to 50% (of the deficit)," Omelchenko believes.
As RBC-Ukraine found out, there will be no cancellation or increase of price caps for now due to the risk of rising electricity prices. However, if the situation requires a resumption of active imports, restrictions could be lifted urgently. "If it needs to be canceled, the NCREPU decision could be made in one day," said a source in the power structures dealing closely with energy issues, to RBC-Ukraine.
Currently, Ukraine has the technical capacity to import 1.2 GW of electricity per day - which is more than the capacity of one block of a nuclear power plant. According to Kudrytskyi, approximately the same capacity will be required for the energy system during severe cold spells.
Three scenarios for the fall and winter
No one can predict with certainty what to expect and accurately forecast the situation in the energy system for the upcoming heating season. However, we can speculate on the logic of events depending on the intensity of hostilities.
No. 1 Positive, but unlikely
If there are no attacks on the energy system and the repair plan is executed, the risk of serious issues in the electricity supply will not arise.
"If there are no attacks, then in most cases, we can say that we will be able to meet consumption needs and avoid extensive outages," said Kudrytskyi.
However, in this scenario, the risks are minimized depending on the possibility of importing electricity. But if the deficit is small, emergency assistance will be possible. However, such a scenario is unlikely, as according to many forecasts and experts, as well as government representatives, Russian attacks could be quite active, including on the electricity transmission systems from thermal and nuclear power plants.
Hennadii Ryabtsev, the director of the "Psychea" Center, believes that the risks of stabilization outages are likely to persist in the frontline areas where it was difficult to carry out restoration work – parts of the Kherson, Zaporizhzhia, Kharkiv, Donetsk, Luhansk, Mykolaiv, and Dnipropetrovsk regions. "There is a high probability of stabilization outages. In addition, if there are worsening weather conditions, there may be outages due to damage," he noted.
No. 2 Realistic, but undesirable
What can we expect if the predictions of attacks are realized, and large-scale missile and drone attacks resume? It is quite difficult to predict the consequences right now – it all depends on the nature of the strikes and the locations of the hits. "It's hard to predict what will fail," Kudrytskyi said.
Work on protecting energy facilities has been carried out, both in energy companies and government structures. Replacement of damaged transformers is underway – the delivery of most new equipment to Ukraine is expected in the fall. Therefore, in case of damage to working transformers, the installation of new ones will be possible within a maximum of two weeks, according to Kharchenko's opinion.
Destroyed transformer (photo: Vitalii Nosach / RBC-Ukraine)
Furthermore, the mechanisms for changing energy communications and protecting energy facilities during the past fall-winter season have already been tested. This is intended to help avoid long-term disruptions in energy supply. The communication system is extensive - in case of damage to distribution lines, alternative supply options can be found. Additional protective measures for energy facilities have reduced their vulnerability to external influences.
However, as of today, according to a spokesperson in the government, officials do not have the ability to control repairs at energy facilities. In the industry, it is said that all work is being carried out properly, but it is practically impossible to verify their quality.
"We cannot conduct instrumental diagnostics. Neither the Ministry of Energy nor the State Energy Inspectorate can do it," one of the spokespersons noted. According to him, it is necessary to take their word for it that the facilities will withstand new attacks if they occur. The government source assures that there are more than enough resources to carry out all the necessary work.
No. 3 Worst possible - Blackout
The worst-case scenario considered last year was a complete blackout due to massive attacks on the energy system. This would mean a prolonged absence of electricity, if not throughout the entire country, then in a significant part of it. However, such a scenario is now considered impossible, according to experts interviewed by RBC-Ukraine. Moreover, Defense Intelligence does not expect such massive attacks as last year.
"Now the implementation of such a scenario is not only practically but also theoretically impossible. It's like meeting a dinosaur on the street," says Ryabtsev.
This most negative scenario could only have been possible if Ukraine had refused to restore destroyed facilities and external aid, and disconnected the air defense system, the expert noted. The worst-case scenario now, in his opinion, could be a return to stabilization shutdowns across the entire country, like the ones Ukrainians experienced last year.
"At the same time, control over the system by Ukrenergo and regional energy companies will be maintained, destroyed facilities will be restored slowly, and there will be a shortage of equipment due to disruptions in its supply," Ryabtsev noted. Even such a scenario is unlikely, he believes.
Even if a blackout is not a threat for the next winter, it is not advisable to relax. Temporary power outages may still occur. Experts recommend checking the functionality of household generators, replacing them with new ones if necessary, and stocking up on energy storage devices and autonomous sources of light.