Russia conducts reconnaissance of Ukrainian energy and air defense: Will there be mass shelling in the fall?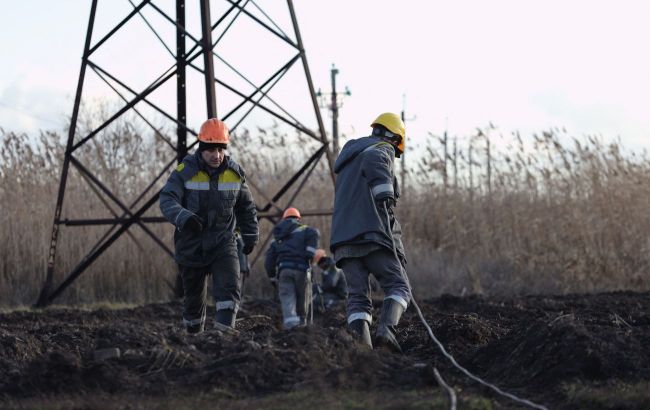 Russia may resume shelling Ukrainian energy facilities again in the fall (photo: GettyImages)
Representative of the Defense Intelligence of Ukraine, Major General Vadym Skibitskyi, shares insights on the number of remaining missiles in Russia, their ability to replenish stocks, whether the adversary has truly begun production of Shaheds, and the main question - should Ukraine expect massive bombardments of the energy sector in the fall.
On the Russian missile reserves and production
The Defense Intelligence is closely monitoring everything related to the enemy's missile stockpiles and their production. Understanding the potential of the Russian Federation's armed forces for both current and future strikes is of utmost importance.
When it comes to ballistic and cruise missiles such as the Iskander, according to our data, they currently have approximately 270 missiles. The stockpile of Kalibrs is estimated at around 140 missiles. They have fewer Kh-101s now, with a total count of around 100 missiles, including Kh-101, Kh-555, and Kh-55 with warheads, according to our calculations.
Today, Russians are using Kh-101 missiles less compared to last fall. There are two reasons for this. Firstly, they need to consider the critical limit of these missiles' stockpiles and, therefore, conserve them. According to their plans, Russians can produce around 40 Kh-101 missiles per month, but we know that these plans are not being met, primarily due to a shortage of foreign components.
The second factor is Russia's attempt to accumulate stockpiles of these missiles, which are considered more accurate and effective compared to, for instance, Kh-555, Kh-22, or even Kalibr missiles, which we have been successfully intercepting.
Regarding Kinzhals, Russians currently have about 75 units. Russians highly value these missiles, not only due to their relatively small quantity but also because, according to our estimates, the adversary can manufacture no more than 6 missiles per month, at least according to their plan.
Apart from the six Kinzhals, Russians are planning to produce 30 Iskander-M ballistic missiles, 12 Iskander-K cruise missiles, 20 Kalibr missiles, and around 40 Kh-101 missiles in August. Furthermore, they are improving Kh-22 cruise missiles, modified versions of which have a new designation, Kh-32. According to our data, Russians may supply no more than 10 of these upgraded missiles per month.
Due to limited stockpiles and production of certain types of missiles, we observe changes in the tactics of enemy strikes. Firstly, there is a rotation of missiles of different classes. Secondly, Russians now carefully select targets and pay significant attention to determining the flight routes of cruise missiles and UAVs to bypass our air defense system. Thirdly, they are quicker to decide on strikes. For instance, when they receive information about the urgent need for target engagement, they employ more accurate high-speed missiles, which are harder for our air defense units to intercept, as seen recently in Chernihiv when an Iskander-K cruise missile struck.
Iskander missile brigades are positioned along the entire border - in Rostov, Kursk, and Belgorod regions, as well as in our occupied territories, including Crimea. Consequently, our regions and areas closer to the front line and the Ukrainian-Russian border are under threat since the flight time of these missiles to their target is a matter of minutes. Rapid response to their launch is extremely challenging.
The enemy is learning, and implementing new approaches, and tactical maneuvers. Most likely, Russians are currently altering their methodology for selecting targets on our territory.
Russians began producing Shaheds
The Russian Federation has initiated efforts to establish a massive production of unmanned aerial vehicles (UAVs) within its territory. Preliminary intelligence data suggests that the enemy plans to manufacture 1,300 of the so-called Geran-2 drones, commonly referred to as Shaheds, in the second half of this year. Russians may utilize components from both foreign and domestic sources. However, in reality, they are currently incapable of producing such a quantity of UAVs.
Following recent attacks involving Shaheds, we have identified elements indicating that the final assembly of these UAVs takes place on Russian territory. This is evidenced by the increased number of Russian components in the drones. Furthermore, we have intelligence suggesting the aggressor's plans to expand Shahed production within Russian territory. Simultaneously, during a Russian defense exhibition, Moscow declared its intention to develop approximately 60 UAVs of various modifications by 2030.
We are working to ascertain the exact locations where these UAVs are being manufactured (as drone production involves multiple facilities) and to determine the actual production capacity.
The success of their plans will depend on how effectively we work in tandem with our partners on sanctions. We are sharing information with them to identify and close supply routes for components, equipment, machinery, and software into Russian territory that are specifically used in UAV production. Additionally, the execution of these plans will depend on the successful kinetic actions against the facilities involved in UAV production within Russia.
Potential Russian tactics for targeting energy infrastructure in fall-winter
The enemy is currently exploring our energy facilities, searching for vulnerabilities, and mapping the locations of our air defense systems. Russians will analyze all this information to choose optimal launch routes.
Therefore, the tactics and approaches to attacks will depend on how effectively the enemy identifies critical targets for us. This could involve mass attacks with various types of weaponry, including UAVs and missiles. It could also be single or double-triple strikes aimed at a single target for its ultimate destruction.
However, such mass attacks, as seen last October, November, and December when they launched 70-100 rockets simultaneously, are less likely to occur. Russians understand that they may not achieve their objectives but instead deplete their resources, as happened last year.
On our part, we will do everything to protect our facilities, detect preparations for attacks in a timely manner, and accordingly provide recommendations to our energy specialists to prevent significant damage.