Zelenskyy on Ukraine's EU accession: No concessions asked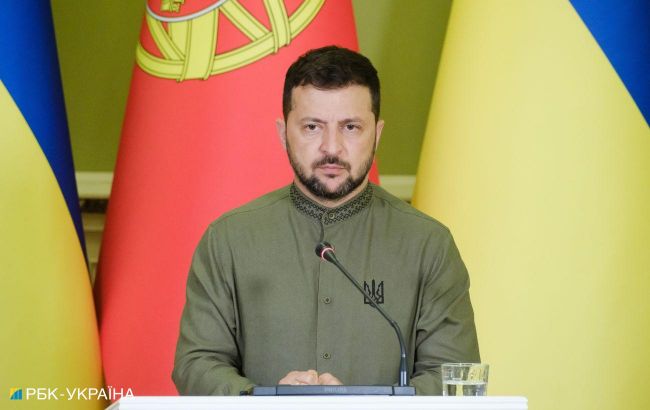 President of Ukraine Volodymyr Zelenskyy (Photo: Vitalii Nosach- RBC-Ukraine)
Ukraine is not seeking any concessions on its path to the European Union. In particular, Kyiv is implementing all the recommendations of the European Commission provided to Ukraine, states President Volodymyr Zelenskyy at a briefing with Ursula von der Leyen, the President of the European Commission.
"We have implemented the recommendations necessary to start membership negotiations. This includes the rule of law, protection of human rights and freedoms of national communities, increased transparency in the work of state institutions, and strengthening the anti-corruption infrastructure," he stated.
We will continue to support and promote a just and lasting peace for Ukraine.

Our support is unshakable. https://t.co/UFLeaqCToR

— Ursula von der Leyen (@vonderleyen) November 4, 2023
Zelenskyy highlights a draft law on lobbying, which he believes will add transparency to political processes and protect the state from the destructive influence of oligarchs and other individuals attempting to bypass the rule of law.
The President stresses the importance of maintaining strong and reliable support from Europe and other partners, particularly in defense and financial assistance. He states that Russia needs to see the world standing firm in defense of freedom and international law.
Zelenskyy also expects enhanced sanctions, including measures "to prevent the circumvention of existing sanctions, especially by using European companies and the territories of Russia's neighboring states."
Ukraine's EU accession
Ukraine was granted candidate status for EU accession last year. The country must fulfill a set of conditions to become a full-fledged EU member.
In late September, Prime Minister Denys Shmyhal announced that Ukraine was finalizing the implementation of all the European Commission's recommendations at the government level.
President Volodymyr Zelenskyy has noted that Ukraine could begin negotiations for EU accession as early as this year.
According to Politico, the European Commission is expected to release a report with recommendations for the start of accession negotiations for Ukraine and Moldova on November 8.