Zelenskyy meets with U.S. congressmen: Defense needs of Armed Forces of Ukraine discussed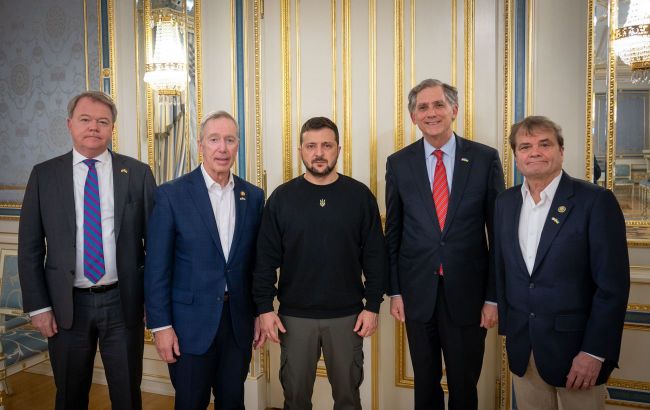 Ukrainian President Volodymyr Zelenskyy met with a delegation of U.S. congressmen (Photo: president.gov.ua)
Ukrainian President Volodymyr Zelenskyy held a meeting with a bipartisan delegation of American congressmen. One of the topics discussed was the defense needs of the Ukrainian military, according to the head of the Ukrainian state.
Zelenskyy notes that Ukraine has always valued and continues to appreciate the support of both the Republican and Democratic parties of the United States Congress. Furthermore, our country expects that the U.S. will continue to assist in the fight against Russian terrorism.
"I informed members of Congress about the latest frontline developments, our successful defensive and offensive operations, and key defense needs," the President stated.
He clarifies that he discussed with the congressmen the key directions of further American assistance to Ukraine in the field of security and defense.
"Since the onset of Russia's full-scale invasion, U.S. assistance has helped stop the aggressor and unite the world. Robust and long-term support will achieve a common victory and the restoration of stability in Europe and the world," Zelenskyy summed up.
What preceded it
It is worth noting that recently, Mike Johnson was elected as the new Speaker of the U.S. House of Representatives (the lower house of Congress). He is a Trump supporter and has repeatedly opposed increasing U.S. assistance to Ukraine.
Johnson also opposed the White House's idea of combining new funding for Ukraine and Israel in a single package. He wants congressmen to consider such initiatives separately.