Zelenskyy meets with South African President, discusses frontline situation and more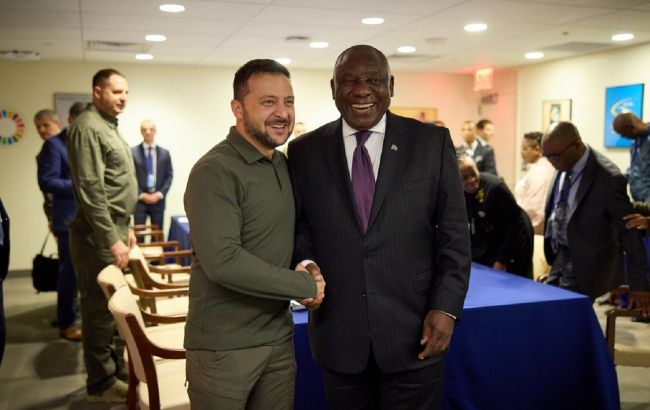 Volodymyr Zelenskyy and Cyril Ramaphosa (Photo: president.gov.ua)
President of Ukraine Volodymyr Zelenskyy met today, on September 19, with the President of the Republic of South Africa, Cyril Ramaphosa, according to the Office of the President of Ukraine.
This took place on the sidelines of the 78th session of the United Nations General Assembly in New York.
It is noted that the leaders discussed current issues of cooperation between Ukraine and South Africa as a continuation of their dialogue that began during their meeting in Kyiv.
What the leaders of the countries managed to discuss
Volodymyr Zelenskyy emphasizes the importance of South Africa's participation in working groups on the Ukrainian Peace Formula. The presidents focused on preparations for the next meeting at the level of advisors to implement the points of the Formula.
Photo: Meeting (president.gov.ua)
"We are extremely grateful that the platform of our Peace Formula has actually started working. The Embassy of your country in Ukraine and Mr. Ambassador personally take part in the meetings on this issue," the Head of State noted.
The parties discussed preparations for the Global Peace Summit at the leaders' level.
War in Ukraine
During the meeting, the need to restore the operation of the "grain corridor" in the Black Sea to ensure global food security and the creation of grain hubs in Africa was also emphasized.
"We are not waiting, we are continuing the Black Sea Grain Initiative and trying alternative routes. Several ships with grain have already successfully passed through these routes despite the difficult situation," the President of Ukraine emphasized.
Volodymyr Zelenskyy and Cyril Ramaphosa also discussed the situation on the battlefield in Ukraine. The head of Ukraine separately emphasized the importance of expediting the return of Ukrainian children illegally deported to Russia to their homeland, as well as the exchange of detainees.
South Africa's position on Russia's war against Ukraine
South Africa, together with other African countries, presented a peace plan in June to end Russia's war against Ukraine. It includes the start of negotiations between Kyiv and Moscow without the withdrawal of occupation forces.
Additionally, the U.S. Ambassador to South Africa, Reuben Brigety, stated in December 2022 that weapons had been loaded onto a Russian ship that had docked at the military port of Simon's Town.
Later, Ramaphosa stated that a special commission had not find evidence of weapons transfer by Russia in December 2022.