Zelenskyy meets with Serbian President in Athens on August 22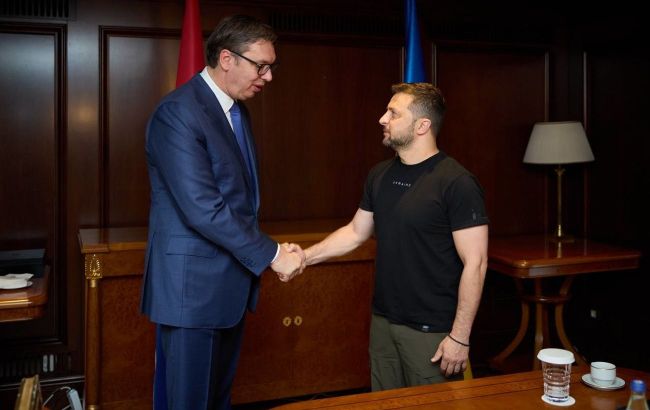 Serbian President Aleksandar Vucic and Ukrainian President Volodymyr Zelenskyy (Photo:)
In Athens, Ukrainian President Volodymyr Zelenskyy met with his Serbian counterpart, Aleksandar Vucic. The leaders discussed various critical matters concerning both countries, the wider region, and the world. They addressed the situations in Ukraine and Kosovo, according to the Serbian President's Instagram post.
"A candid and forthright conversation with President Volodymyr Zelenskyy about all crucial issues relevant to Serbia, Ukraine, the region, and the world. We touched upon events in Ukraine, Kosovo, and Metohija, and I reiterated that Serbia respects Ukraine's territorial integrity. We have been steadfast and clear about this stance since the beginning of the conflict," wrote Vucic.
Zelenskyy also reported meeting with his Serbian counterpart in his Telegram channel.
"An open, honest, and productive discussion with President Vucic of Serbia. A good conversation about respecting the UN Charter and the inviolability of borders. About the future of our people in the common European home. About the development of relations that is of mutual interest," stated the head of state.
Zelenskyy's tour
After visiting Sweden, the Netherlands, and Denmark over the weekend, Zelenskyy headed to Athens for meetings with Western Balk leaders.
During the summit, the leaders of 11 Southeast European countries signed the Athens Declaration to support Ukraine's territorial integrity.
Additionally, President Volodymyr Zelenskyy met with Bulgarian Prime Minister Nikola Denkov as part of the Ukraine-Balkans summit in Athens.