Zelenskyy meets with Nauseda in New York: Discusses Ukrainian grain exports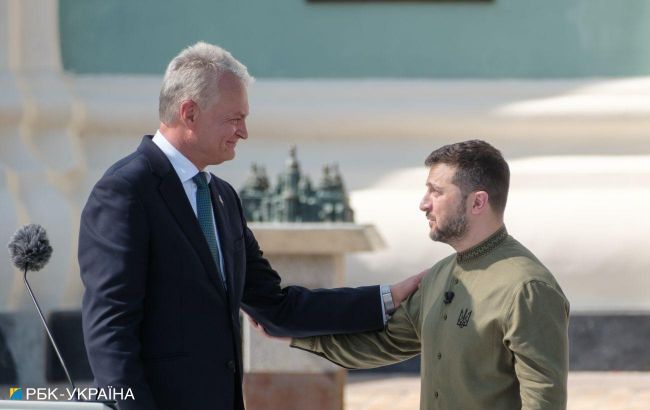 Lithuanian President Gitanas Nauseda and President of Ukraine Volodymyr Zelenskyy (Photo: Vitaliy Nosach, RBC-Ukraine)
Ukrainian President Volodymyr Zelenskyy held a meeting with Lithuanian President Gitanas Nauseda. One of the main topics of discussion was the export of Ukrainian grain, according to LRT.
Nauseda mentioned that he also had negotiations with Polish President Andrzej Duda. He noted that during his meetings with the Ukrainian and Polish leaders, they discussed easing grain transportation procedures through Poland and increasing transit through Lithuania.
He also responded to the statement made by Polish Prime Minister Mateusz Morawiecki that Warsaw would cease providing weapons to Ukraine.
Nauseda emphasized that for the sake of the joint and primary goal of protecting Europe from Russia's aggressive and expansionist policy, differences between Ukraine and Poland had to be resolved as quickly as possible. He pointed out that Poland's role in providing support was unique and stressed the necessity to find a solution, as further deepening the crisis would be irresponsible.
He mentioned that the current situation is not just about the security of individual countries but the security of the entire region and even the continent. Therefore, only by working together can external threats be effectively countered.
Press secretary in the administration of Ukrainian president, Serhii Nykyforov clarified in a comment to RBC-Ukraine that there was no meeting between Zelenskyy and Duda in the United States.
Earlier, some media outlets had reported that Zelenskyy, Duda, and Nauseda held negotiations in New York.
Conflict between Poland and Ukraine
Recall that on September 15, Poland decided to extend the ban on grain imports from Ukraine despite the European Commission's decision to lift such measures.
In response, Kyiv began filing a lawsuit with the World Trade Organization.
Ukrainian President Volodymyr Zelensky hinted that Poland was undermining political solidarity with political theater. Warsaw subsequently summoned Ukraine's ambassador to the Ministry of Foreign Affairs.
However, today, the two countries have agreed to find a solution regarding the export of Ukrainian agricultural products.