Zelenskyy inspects damages after Russian strike on Odesa Spaso-Preobrazhensky Cathedral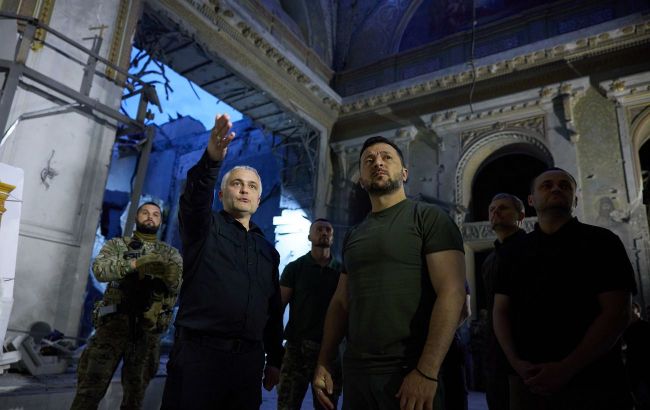 Zelenskyy inspects damages after Russian strike on Spaso-Preobrazhensky Cathedral (president.gov.ua)
President of Ukraine Volodymyr Zelenskyy visited the Spaso-Preobrazhensky Cathedral in the Odesa region as part of his official visit, according to the President's Office. The cathedral recently suffered severe damage due to the Russian attack.
Zelenskyy was told about the extent of the destruction of the church and its current condition. President Zelensky was informed that experts are currently assessing the possibilities for restoring this cultural monument. The President was informed that experts are currently working to assess the possibility of restoring the building.
(president.gov.ua)
According to the President's Office, foreign partners have expressed their willingness to contribute to the restoration of Spaso-Preobrazhensky Cathedral.
The attack on the Spaso-Preobrazhensky Cathedral
On the night of July 23, Russian forces fired missiles at Odesa. One of the missiles struck the cathedral, causing damage to the building and its roof.
Italy has already expressed its willingness to contribute to the cathedral's reconstruction.
The Spaso-Preobrazhensky Cathedral is the largest Orthodox church in Odesa, founded in 1795. The Bolsheviks completely destroyed the original cathedral in 1936. The current cathedral was built between 1999 and 2011 on the site of its predecessor.
Read more about the Russian attack in the RBC-Ukraine report.