Zelenskyy talks with U.S. Secretary of Transportation: Highlights of discussions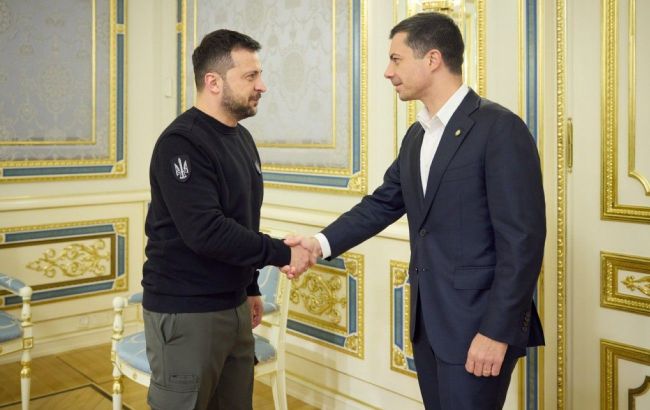 Photo: President Zelenskyy and Pete Buttigieg, U.S. Secretary of Transportation (president.gov.ua)
President Volodymyr Zelenskyy met with U.S. Secretary of Transportation Pete Buttigieg, who arrived in Kyiv today, on November 8th, for an official visit, reports Zelensky's Telegram channel.
The discussions included the following topics:
Infrastructure restoration in Ukraine

Development of transportation opportunities for Ukrainian exports

Prospects for joint defense production between Ukraine and the U.S.
Photo: Zelensky met with the head of the U.S. Department of Transportation (president.gov.ua)
According to Zelenskyy, the US is extremely interested in the development of the railway transport network in Ukraine, which is crucial for strengthening Ukraine's collaboration with European countries.
"The United States has significant potential to provide Ukraine with appropriate assistance," stated Volodymyr Zelensky.
The President also expressed gratitude to the United States for its support in the reconstruction of Ukraine amid Russian aggression.
What preceded?
Today, November 8, the Minister of Transportation of the United States, Pete Buttigieg, arrived in Kyiv. It is worth noting that his visit to Ukraine was not previously announced.
What is known about Buttigieg?
Buttigieg had previously planned to run as a candidate for the Democratic Party in the 2020 presidential elections.
However, he later withdrew his candidacy. Before serving in the government, the minister held the position of the mayor of South Bend.