Zelenskyy discusses maritime security and 'grain corridors' with Bulgarian Prime Minister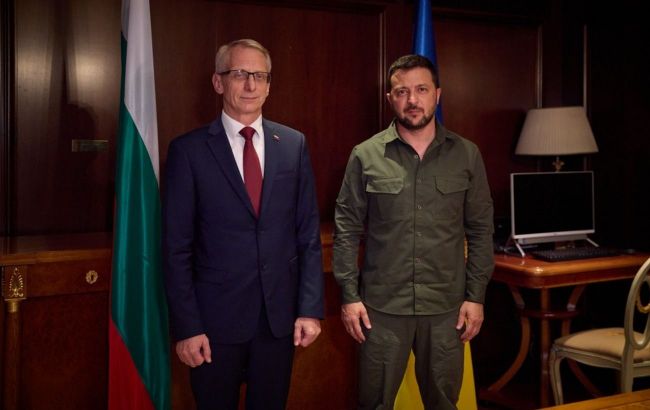 President of Ukraine Volodymyr Zelenskyy and Prime Minister of the Republic of Bulgaria Nikolai Denkov (president.gov.ua)
Ukrainian President Volodymyr Zelenskyy held a meeting with the Prime Minister of Bulgaria, Nikolai Denkov, as part of the Ukraine-Balkans Summit, which took place in Athens, informs the Office of the President.
Zelenskyy thanked Denkov for Bulgaria's comprehensive support in Ukraine's struggle against Russia, including recent decisions by the Bulgarian government to provide defense support.
The President discussed maritime security and alternative "grain corridors" with the Prime Minister of Bulgaria, and further cooperation to protect our country.
In particular, they paid special attention to the situation in the Black Sea region and discussed cooperation among the Black Sea states to ensure the sustained security of the Black Sea and the operation of the "grain corridor" through alternative routes.
"I am grateful to Bulgaria for condemning Russia's unilateral withdrawal from the Black Sea Grain Initiative. Ukraine is ready to use alternative ways for the "grain corridor". We count on Bulgaria's support in this regard," Zelenskyy said.
He thanked Denkov for supporting the Ukrainian peace formula and Bulgaria's readiness to participate in the implementation of its specific points.
The President also noted Bulgaria's joining of the Joint Declaration of Support of Ukraine, adopted by the G7 countries at the NATO summit in Vilnius.
On his part, the Prime Minister of Bulgaria confirmed the principled support of the Crimean Platform, the third summit of which will take place in Kyiv on August 23, 2023.
Zelenskyy's Visit to Europe
After visiting Sweden, the Netherlands, and Denmark over the weekend, Zelenskyy traveled to Athens to meet with leaders from the Western Balkans.
At the summit, leaders from 11 countries in Southeastern Europe signed the Athens Declaration in support of Ukraine's territorial integrity.
Additionally, it was reported that Zelenskyy would hold a meeting with the President of Serbia, Aleksandar Vucic, in Athens.