Zelenskyy discusses new defense package for Ukraine with Macron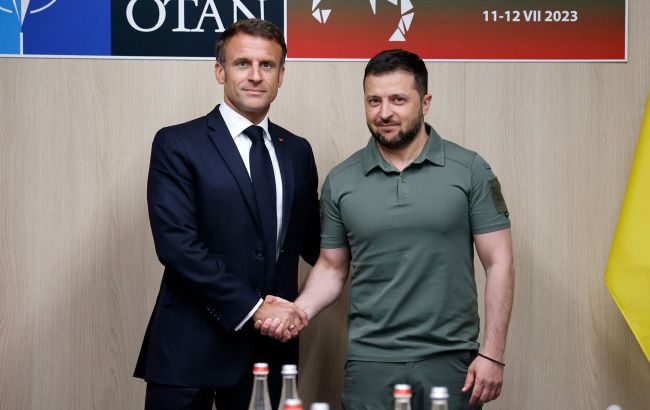 Ukrainian President Volodymyr Zelenskyy and his French counterpart Emmanuel Macron (photo: Getty Images)
Zelenskyy held in-depth negotiations with French President Emmanuel Macron. They discussed defense, a grain deal, and security guarantees for Ukraine, announces Ukrainian President Volodymyr Zelenskyy on his Twitter.
"I expressed gratitude to the French Republic for their support, particularly the critically important military assistance," the President stated.
He mentioned that during the negotiations, they touched upon various topics. Among them, the Presidents discussed the forthcoming defense packages from France for Ukraine.
Furthermore, during the conversation, the Presidents agreed that France and French companies will participate in the Defense Industries Forum.
Separately, Zelenskyy and Macron discussed ensuring the operation of the "grain corridor" and enhancing the security of the Odesa region.
The heads of states also agreed to initiate negotiations regarding bilateral security guarantees in the development of the G7 declaration.
"Our teams have received respective mandates. I especially thanked France for their leadership in implementing the peace formula," Zelenskyy conveyed.
Toward the end of the discussion, the Presidents talked about the Global Peace Summit, emphasizing the need to involve as many countries as possible, particularly those outside of Europe.
Kuleba's visit to France
Recently, Ukraine's Minister of Foreign Affairs, Dmytro Kuleba, held a meeting with the President of France, Emmanuel Macron, during his visit to the country.
Kuleba became the first Minister of Foreign Affairs of Ukraine to be invited for a meeting by French envoys.
Additionally, during his visit to France, Kuleba raised the topics of initiating negotiations on Ukraine's EU membership and the future accession of our country to NATO.