Zelenskyy declares Ukraine's aspiration to produce Western weapons on its territory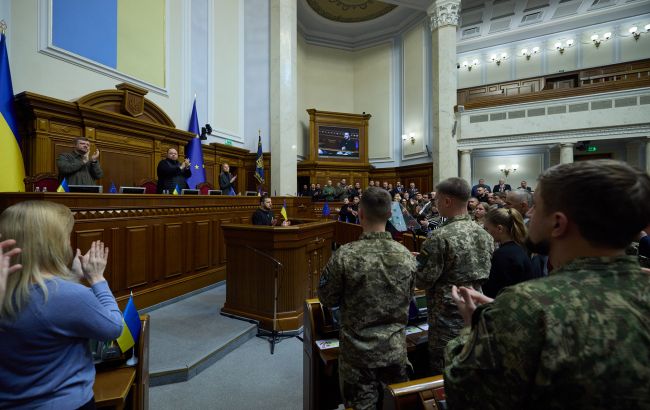 President of Ukraine, Volodymyr Zelenskyy, declared the readiness to produce Western weapons in Ukraine
In a speech before the Verkhovna Rada on the occasion of Constitution Day, Ukrainian President Volodymyr Zelenskyy announced that Ukraine aims to modernize its defense-industrial complex to the extent that it can manufacture Western-style weapons on its territory.
"We aspire to produce and localize in Ukraine the necessary weapons systems such as air defense, tanks, artillery, and armored vehicles that are currently supplied by our partners. Our soldiers will always have weapons," he stated.
According to Zelenskyy, Ukraine will possess a robust defense-industrial complex that will meet the needs of its army, navy, and air defense, and ensure cybersecurity.
"This is not a dream but a reality. We understand that the current level of production is not sufficient. We still require global support from our partners. However, it will be sufficient, and we will achieve it," assured the President.
To substantiate his claims, Zelenskyy provided several examples. Ukraine has already mastered the construction of naval drones.
"We successfully utilize them. The production of unmanned aerial vehicles in Ukraine is a sector that was intended to become, and will become, the most powerful in Europe," he emphasized.
Furthermore, he mentioned that Ukraine has essentially built the production of scarce ammunition for artillery from scratch.
"We have restored the production of 122mm and 125mm caliber shells, among others. We are transitioning from the 152mm to the 155mm caliber, which is a Western standard. Ukrainian artillery has already been developed during this full-scale Russian aggression," he added.
He couldn't help but mention the sinking of the Russian cruiser "Moskva."
"There is already substantial evidence at the bottom of the Black Sea proving Ukraine's capability as a country that produces missiles. The 'Neptunes,' which were deployed in 2020, hit their targets precisely," concluded Zelenskyy.
Destruction of the cruiser "Moskva"
The cruiser "Moskva" was considered the flagship of the Russian Black Sea Fleet and was destroyed by two missiles launched from the coastal missile complex "Neptune" developed by enterprises of the State Concern "Ukroboronprom" on April 13, 2022. It is considered the most expensive military loss for Russia in the war against Ukraine, as the residual value of the cruiser was estimated at $750 million.
The Armed Forces of Ukraine noted that the sinking of the "Moskva" brought the liberation of Zmiinyi Island closer and eliminated the possibility of a naval landing on our coast. On June 30, 2022, Russian occupiers left Zmiinyi Island. Thus, the Odessa region was liberated from the occupants.