Zelenskyy and Dutch PM discuss Ukraine's defense needs and sanctions against Russia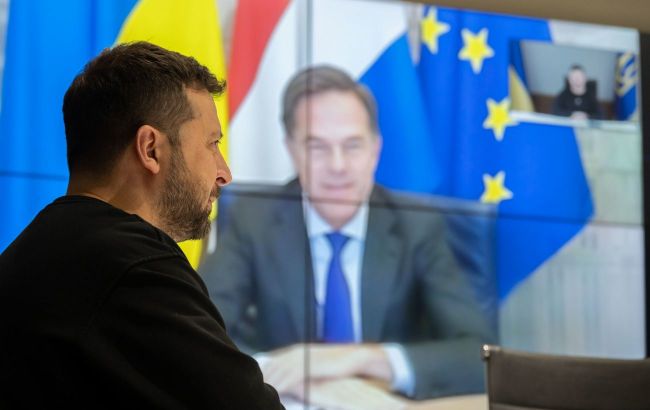 President of Ukraine Volodymyr Zelenskyy (Photo: Getty Images)
President of Ukraine Volodymyr Zelenskyy had a conversation with the Prime Minister of the Netherlands, Mark Rutte, during which they discussed strengthening Ukraine's defense and a new package of sanctions against Russia, according to Zelenskyy's statement.
During the conversation, the parties focused on strengthening Ukraine's defense, European security, and the situation in the Middle East.
Zelenskyy noted that previous agreements between the countries were being implemented, including additional missiles for Patriot systems, preparations for the transfer of F-16 aircraft, patrol boats, and long-term financial assistance.
Rutte noted that the Netherlands would continue to support Ukraine, and the escalation in the Middle East would not hinder this support.
"I was also able to inform President Zelensky that the F-16s the Netherlands pledged in order to strengthen Ukrainian air defences will arrive at the training centre in Romania in two weeks' time. That means that the training courses for the Ukrainian pilots who will fly them can start shortly," the Prime Minister reported.
They also discussed Ukraine's further defense needs to protect its people, infrastructure, and ports.
"I called on the EU to expedite work on the 12th package of sanctions against Russia, as well as an effective mechanism for transferring income from frozen Russian assets to Ukraine," the President wrote.
The parties also discussed the issue of Ukrainian grain exports through Black Sea ports and the Netherlands' involvement in the investigation of Russian war crimes.
They also discussed the situation in the Middle East. Zelenskyy emphasized that preventing further escalation and a broader war aligned with the interests of the global community.
He also stressed that Ukraine was ready to make every effort in cooperation with its partners to put an end to terror and protect the lives of civilians.
Support for Ukraine from the Netherlands
The Netherlands is one of Ukraine's allies in the war against Russia. Amsterdam provides both military and economic assistance to our country.
Recently, the Netherlands announced the transfer of a new package of military aid to Ukraine, which included demining equipment, ammunition, and drones.
Rutte also stated that the Netherlands would provide new military assistance to Ukraine to protect its energy and grain corridor, including the supply of ammunition for the Patriot air defense missile system.