Zaporizhzhia shelling on August 10: 3 dead and 9 injured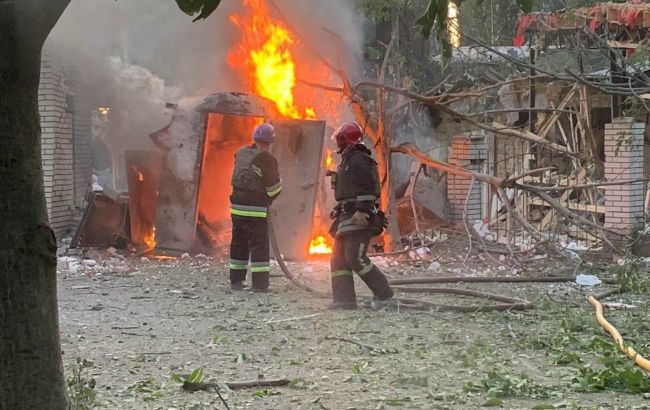 Number of victims due to Zaporizhzhia shelling increased (Photo: t.me/Klymenko_MVS)
According to the statement of Yurii Malashko, the head of Zaporizhia Military Administration, in a devastating incident on the morning of Thursday, August 10, Zaporizhia fell victim to shelling, resulting in the loss of three lives and injuries sustained by nine others.
The attack had dire consequences. "Three fatalities and nine injured, including an 11-month-old infant – a consequence of the strike on the regional center," he disclosed.
Yurii Malashko shared that a Russian projectile claimed the lives of a 43-year-old man, along with two young women aged 19 and 21.
Ihor Klymenko, the Minister of Internal Affairs, revealed that an additional woman succumbed to her injuries in the hospital during the morning hours. "As of 8:30, three individuals have tragically lost their lives, while nine have sustained injuries. One person remains in critical condition," he stated.
Update: The State Emergency Service of Ukraine (DSNS) reported that in Zaporizhzhia, firefighters successfully extinguished a blaze in a utility structure measuring 12 square meters, located within the church premises. Emergency workers carried out necessary rescue operations on a nearby shop building, assessing other damaged structures as well.
At the scene, the swift response team of the Ukrainian Red Cross Society had the assistance of 8 volunteers from their ranks.
The DSNS mobilized a force of 36 rescuers and 6 units of equipment. Meanwhile, 11 personnel and 2 units of equipment from the municipal emergency rescue service, and 20 employees from municipal services participated in the operations.
Zaporizhzhia under attack
Russian forces bombarded Zaporizhzhia on Wednesday, August 9. The main impact zone was the Shevchenkivskyi residential quarter. This attack occurred during an air raid siren and purportedly involved the use of an Iskander missile. Initial reports indicated two fatalities and 7 injuries as a result of this attack.