Xiaomi showed its first electric car design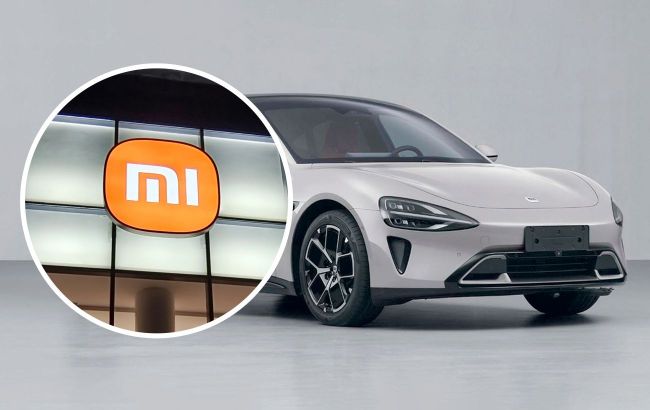 The first electric car from Xiaomi is presented in China (collage: RBC-Ukraine)
Xiaomi has formally requested a license to market its inaugural electric vehicle, the SU7 sedan, in China. During the approval process by the local regulatory authority, certain technical specifications and even the car's ultimate design were disclosed, as reported by the CarNewsChina website.
The Xiaomi SU7 is an electric four-door, five-seater sedan with dimensions of 4997×1963×1455 mm and a wheelbase of 3000 mm. It will be available with two-wheel options: 19 inches and 20 inches, equipped with 245/45 and 245/40 tires, respectively.
Disc variants of Xiaomi SU7 (photo: CarNewsChina)
Xiaomi unveiled two versions of the SU7: one with lidar and one without. The lidar is positioned on the windshield, and the car is anticipated to feature facial recognition technology for unlocking.
There are two powertrain options: a rear-wheel-drive model with a 220 kW engine and an all-wheel-drive variant boasting a combined output of 495 kW (220 kW + 275 kW). The battery packs are provided by BYD.
Xiaomi SU7 (photo: CarNewsChina)
The base configuration of the car weighs 1,980 kilograms, with a maximum speed capped at 210 km/h. In the top-tier version, the Xiaomi SU7's weight will rise to 2,205 kilograms, accompanied by a maximum speed of 265 km/h.
Xiaomi SU7 (photo: CarNewsChina)
The electric cars are anticipated to be introduced to the market with the monikers SU7, SU7 Pro, and SU7 Max. Certain configurations will feature an active rear wing (spoiler).
Production of the electric car will be carried out in collaboration with Beijing Automotive Industry Holding Co. Ltd (BAIC), rather than directly by Xiaomi. Serial production is slated to commence in December 2023, with initial deliveries projected for February 2024. Trial production has already commenced at the BAIC plant in Beijing, with dozens of test cars having already undergone assembly.
The basic configuration of the electric car weights 1,980 kilograms (photo: CarNewsChina)