White House denies discussions of Ukraine's NATO membership in exchange for territory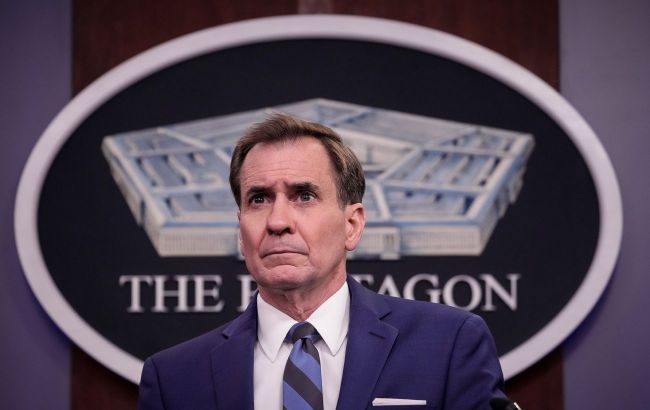 John Kirby, the White House's Coordinator for Strategic Communications at the National Security Council (Photo: Getty Images)
In a statement from the administration of US President Joe Biden, discussions regarding the potential granting of NATO membership to Ukraine in exchange for relinquishing parts of its territory to Russia have been refuted.
John Kirby, the White House's Coordinator for Strategic Communications at the National Security Council, addressed these claims during a briefing.
"Absolutely not. That's not the case," Kirby stated in response to questions about discussions concerning the exchange of Ukrainian territories for NATO membership.
He emphasized that the United States' position is that Ukraine has the potential to become a NATO member in the future, a stance reaffirmed by the leadership of Alliance member countries during the recent summit in Vilnius.
"At the Vilnius Summit, the Alliance supported the notion that the path to (Ukraine's NATO membership) can be developed. Currently, the main focus is on aiding Ukraine in countering Russian aggression and reclaiming territories that rightfully belong to Ukraine. They are making progress daily, and we will continue to support them," Kirby noted.
Background
On August 15, the head of the office of the Secretary-General of the North Atlantic Alliance, Stian Jenssen, mentioned that he considers one of the "options" for the war is Ukraine's relinquishment of its territories in exchange for NATO membership.
Jenssen revealed that ongoing discussions about Ukraine's future status within the Alliance after the conflict are underway. Specifically, options involving Kyiv's relinquishment of parts of its territory are being discussed.
Oleh Nikolenko, spokesperson for the Ukrainian Ministry of Foreign Affairs, stated that talks about Ukraine's NATO membership in exchange for giving up parts of Ukrainian territory are entirely unacceptable.
Additionally, advisor to the President's Office, Mykhailo Podolyak, stated that such declarations are attempts to preserve the global order and establish a "bad peace." He pointed out that in the future, Russia will not abandon the prospect of transferring the war to future generations.
However, yesterday, Jenssen clarified that the proposal for Ukraine to surrender parts of its territory in exchange for North Atlantic Alliance membership was a mistake.