We have formed a security foundation for Ukraine on its way to NATO, Zelenskyy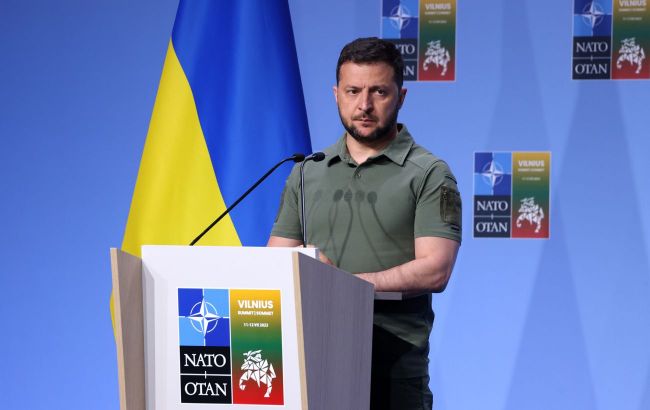 President of Ukraine Volodymyr Zelenskyy (GettyImages)
"For the first time since independence, we have formed a security foundation for Ukraine on its way to NATO," said President Zelenskyy in his video address on Facebook.
The Ukrainian leader said that the summit has provided concrete security guarantees, which have been confirmed by the top 7 democracies in the world. He emphasized that Ukraine has never had such a solid security foundation and that on this foundation, Ukraine will build a new legally binding architecture of bilateral security treaties with the most powerful countries.
Zelenskyy said that during the NATO summit in Vilnius, all doubts and ambiguities regarding Ukraine's membership in the Alliance were successfully eliminated. He said, "For the first time, not only do all Allies agree on this, but a significant majority in the Alliance is vigorously pushing for it. Never before have the words «you are equal among equals» for Ukraine from other NATO members sounded truly meaningful. Now everyone understands that this is a fact. Equal among equals. And we will definitely reaffirm this fact with our victory. And with our accession to NATO."
Security guarantees for Ukraine from the G7
During the NATO summit in Vilnius, leaders of G7 member countries, in a joint declaration, reaffirmed their commitment to an independent, democratic, and sovereign Ukraine within its internationally recognized borders, capable of defending itself and deterring possible future aggression.
The G7 nations will work on providing Ukraine with sustainable forces capable of defending the country both now and in the future against Russian aggression. This includes:
Assistance in security and the supply of modern military equipment on land, in the air, and at sea.
Support for the development of Ukraine's defense-industrial base.
Training and education for the Ukrainian Armed Forces.
Exchange of intelligence.
Support for initiatives in cybersecurity, safety, and resilience, including countering hybrid threats.