War reaches point of no return: Zelenskyy's Office outlines what to expect in 2024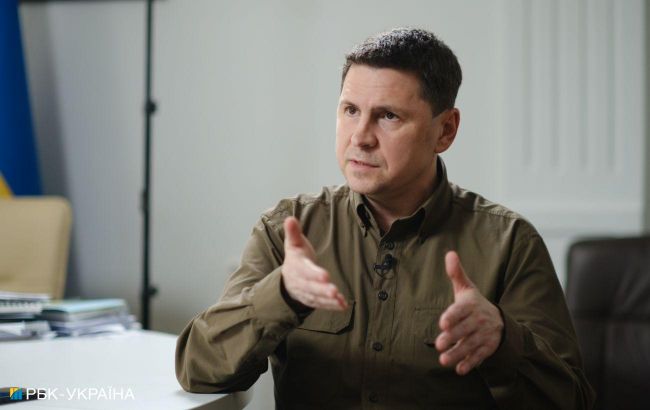 Photo: Advisor to the Head of the Presidential Office Mykhailo Podolyak (Vitalii Nosach, RBC-Ukraine)
The war in Ukraine is at the point of no return. At the same time, Ukraine has a clear understanding of how the situation will develop in 2024 and what is needed to win, says the advisor to the President's Office, Mykhailo Podolyak, in an interview with DW.
"The war is at the point of no return. That is why we have a clear understanding of what is needed for the 24th year, and at the end of the 23rd," he stated.
Podolyak listed the main points that Ukraine needs to win. Namely:
First, to slightly adjust the tactics of the resources used by Russia;
Second, to slightly adjust the strategy to take into account the remaining dominant advantages that Russia has, so that these advantages are eliminated;
Third, to invest in those industries that need to be rapidly developed to gain a technological advantage;
Fourth, a sharp increase in pressure due to the technological component of this war on one or another of Russia's military orders.
What will happen in case of Russia's defeat
According to Podolyak, Russia is well aware that if it knows defeat if it collapses the front line, its elite will cease to exist, and Russia will cease to exist.
"I mean not geographically, but politically. They will have the same processes as in 1991, but only with greater mutual internal claims. Because they were offered one model, received another, paid a high price for this, and to no avail," the OP advisor noted.
What will happen if Ukraine fails
"We have the same situation: if we do not press along the front line, if we do not ensure Russia's defeat, the war will be frozen, and the Ukrainian state and its subjectivity will be constantly under external pressure," Podolyak stated.
In his opinion, given that Russia invests large resources in constant terrorist attacks and constant internal political conflicts, Ukraine will have an untenable internal political space.
As RBK-Ukraine has written, forecasts of the end of the war in Ukraine directly depend on the positions the Ukrainian Defense Forces will be able to reach in 2023 and 2024. If the Ukrainian Armed Forces remain in the same areas where they were in October, the fighting may drag on until 2025. Read more in the article.