Ukrainian President's Office on attack on Odesa port: systemic response needed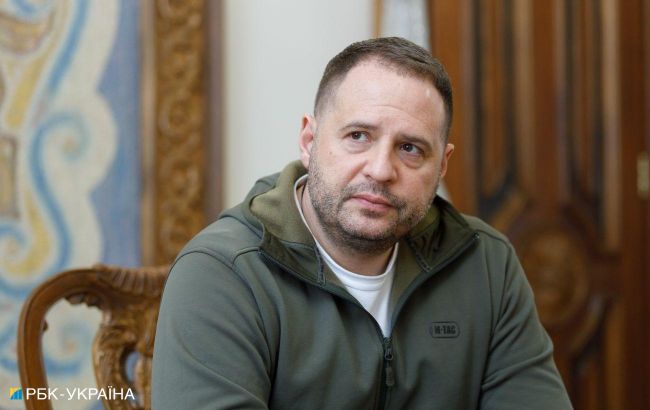 Head of the President's Office, Andriy Yermak (Photo: Vitalii Nosach, RBK-Ukraine)
According to the Telegram message of Andriy Yermak, head of the President's Office, Russia aims to create hunger and problems in Global South countries while weakening its Western allies. To prevent this, a systemic response to the aggression of the state aggressor is necessary.
"The Russian terror in Odesa once again proves that they desire hunger and problems in Global South countries. They want to create a refugee crisis for the West. Everything is done to weaken allies and politically interfere in the internal affairs of these countries," he wrote.
He emphasized that Russians are using weaponry that cannot be produced without components manufactured in the West and Asian countries.
According to the head of the President's Office, a systemic response is needed for Russia's criminal actions, including:
Strengthening sanctions, particularly against those who assist Russians in circumventing them. Allies are already preparing decisions, and the McFaul-Yermak Group has provided its own proposals.
It is also possible to halt the re-export of necessary components for weapon production if the accountability for it is severe.
The response to terrorism is strength. Ukraine needs weapons, aviation, long-range missiles. We must drive Russia out of our territory.
The peace formula of President Volodymyr Zelenskyy is the only way to end the war.
Russia should be rendered incapable of waging war in the future. This can be achieved through economic sanctions. Russian assets should also be used for the restoration of Ukraine, and future generations of Russians should pay for today's evil deeds.
"Systemic work will allow us to prevail," Yermak emphasized.
Night Attack on Southern Ukraine
Russian military forces launched a powerful accumulation of rockets and kamikaze drones, attacking southern Ukraine during the night. Residential buildings, the port, and critical infrastructure were hit, resulting in damages. Over 10 people were injured.
Specifically, Russians targeted the port and critical infrastructure with "Onyx" and X-22 missiles. They struck the grain and oil terminals, damaging reservoirs and loading equipment. A fire broke out, and all relevant services are working to eliminate the consequences. There is no information available about casualties.