Ukrainian pilots to start F-16 training in U.S. next week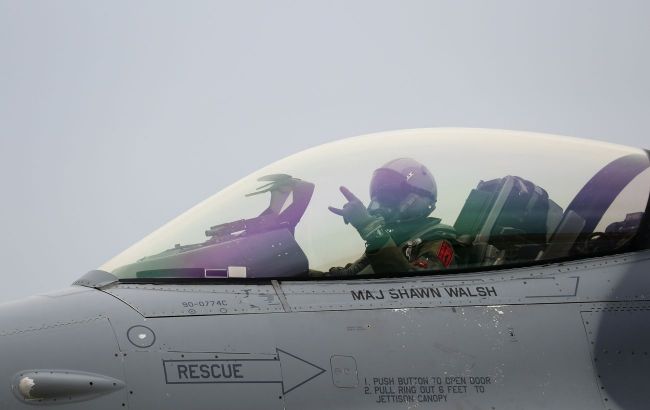 Illustrative photo (Photo: Getty Images)
Ukrainian pilots will begin training for flights on F-16 fighter jets next week at the National Guard Air Base in Tucson, USA, according to Politico.
A small number of pilots who arrived in the United States last month for English language courses at the Lackland Air Force Base in Texas have completed their initial English language proficiency test. They are now proceeding to Morris National Guard Air Base in Arizona, where they will receive training with the 162nd Fighter Wing, the primary F-16 training center for the U.S. Air Force.
The pilots will initially learn the basics of F-16 control in a classroom and on simulators, following the standard pilot training program. However, due to the urgent need to return them to the battlefield, this process may be expedited.
English language learning
The English language program is being provided by the Defense Language Institute English Language Center at Lackland.
Rose Riley, a spokeswoman for the U.S. Air Force, said, "Testing will determine their next courses and when the pilots would be able to commence F-16 training. Training location options are still being considered at this time."
F-16s for Ukraine
The Netherlands and Denmark have taken the lead in efforts to train Ukrainian pilots on F-16s and supply fighter jets to Ukraine to counter Russia's air superiority.
Norway and Belgium have also committed to providing Ukraine with F-16s, while 11 other countries, including the United States, have pledged to help train Ukrainian pilots to operate these aircraft.
As previously stated by the Ministry of Defense, Ukraine may receive its first F-16 aircraft no earlier than 6-7 months from now. However, the Netherlands and Denmark have promised to deliver the first aircraft by early 2024.
Yurii Ihnat, a spokesman for the Air Force Command of the Armed Forces of Ukraine, stated that Ukrainian pilots were currently undergoing simulator training on F-16 fighter jets. Moreover, they might commence flight training with an instructor on real aircraft within a few weeks.