Ukrainian long-range weapons hit target at 700 km for the first time - Zelenskyy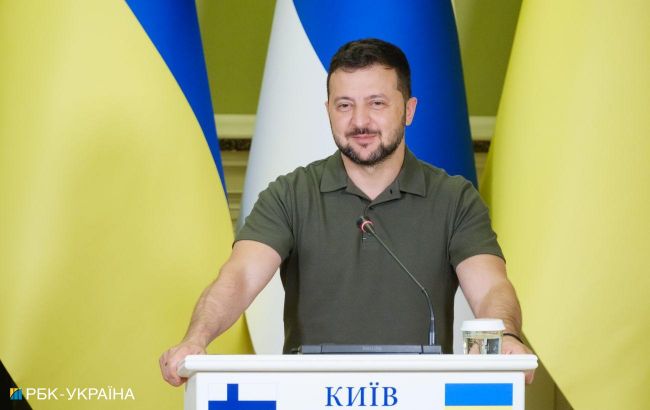 President of Ukraine Volodymyr Zelenskyy (Vitalii Nosach, RBC-Ukraine)
The Ukrainian military was able to hit a target at a distance of 700 km using long-range weapons of domestic production, according to the President of Ukraine Volodymyr Zelenskyy.
The President chaired a daily briefing where, among other matters, Chief of the General Staff of the Ukrainian Armed Forces Valerii Zaluzhnyi presented a report on the situation on the battlefield, encompassing both defensive and offensive actions. Zelenskyy emphasized that their forward momentum remains unstopped.
The Ministry of Defense also reported the delivery of new weaponry and ammunition, including a substantial batch of armored medical vehicles.
The Ministry of Strategic Industries provided updates on domestic production capabilities.
"Successful use of our long-range weaponry: the target was struck at a distance of 700 kilometers," the President wrote.
He also mentioned that the Ministry of Infrastructure is preparing for the next steps within the "grain corridor," and the Cabinet of Ministers and the President's Office are working on winter preparations, including the energy system, resilience points, and bomb shelters.
Furthermore, representatives from the Ministry of Internal Affairs reported on the elimination of the aftermath of Russian shelling and the security situation ahead of the new academic year.
Intelligence reports on military and political actions by Russians were also presented during the briefing.
Long-range weapons
Ukraine is actively developing its own military-industrial complex. Ukrainian military forces have already been using domestically-produced drones in the war with Russia.
However, long-range weaponry is deemed essential for the nation. As Zelenskyy previously emphasized, it is crucial not only for offensive but also defensive operations.
Last year, Ukrainian officials began calling on international partners to provide Ukraine with long-range missiles. Requests were made to the United States regarding the transfer of ATACMS missiles, but the United States has not yet approved this decision.
In contrast, the United Kingdom has supplied Ukraine with Storm Shadow long-range missiles capable of hitting targets at distances exceeding 250 kilometers. France has also provided similar missiles.
In June, Ukrainian soldiers launched attacks on Crimean bridges using Storm Shadow missiles.