Chonhar bridges strikes: latest updates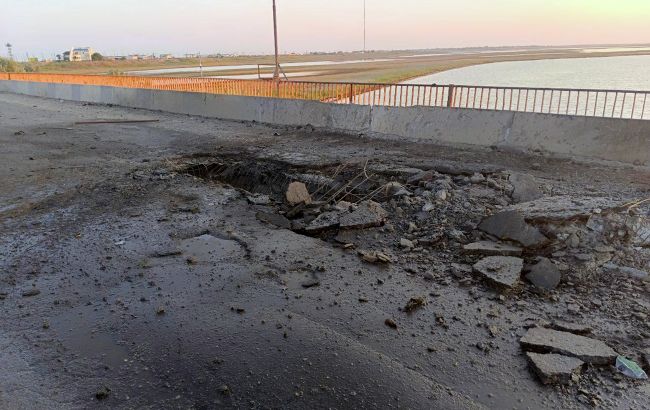 Chonhar bridge was struck on the night of June 22 (Photo: t.me/vanek_nikolaev)
Russian media reports that on the night of June 22, Chonhar road bridges connecting the occupied Crimea and mainland Ukraine were struck. The roadway is temporarily blocked.
Reports say that several bridges at the border between Crimea and Kherson region have been damaged due to missile strikes. Representatives of the occupying "authorities" allege that Storm Shadow missiles were used in the attack.
Judging by the published photos, not only the road surface of the bridges has been affected but also their structural components. Due to the damages, traffic has been rerouted along a reserve route.
According to the Telegram channel "Crimean Wind," while an inspection of the structures of the Chonhar bridges is ongoing, the occupiers are directing all traffic through Armyansk.
Chonhar bridges mining
Earlier, military officials debunked online speculations and false information concerning a bridge that was allegedly demined, which allowed Russian forces to cross it at the onset of a full-scale invasion.
The General Staff of the Ukrainian Armed Forces stated that the Chonhar Bridge in Kherson region was mined by Ukrainian troops, and during the Russian invasion, the Ukrainian soldiers resisted forces that outnumbered them by 15 times.