Ukrainian Intelligence explains reason behind increased Russian attacks on Odesa region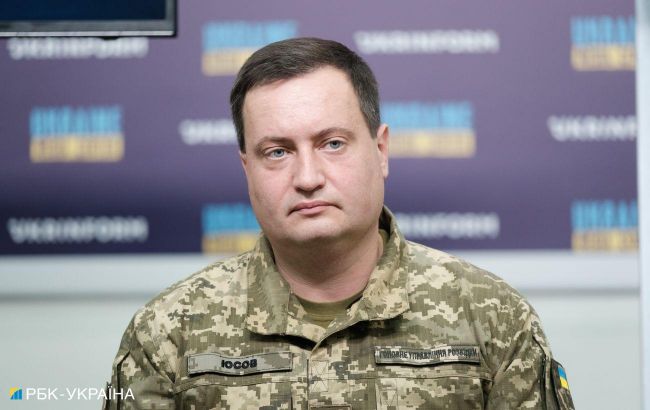 Representative of the Defense Intelligence of the Ministry of Defense of Ukraine, Andrii Yusov (Photo: Vitalii Nosach, RBC-Ukraine).
The Odesa region has become one of the key directions for attacks by Russian occupiers. The main reason for these attacks is related to negotiations concerning the "grain corridor," according to Andrii Yusov, representative of the Defense Intelligence of the Ministry of Defense of Ukraine, in a comment to RBC-Ukraine.
"Now one of the key enemy attack directions is Odesa. Since negotiations regarding the 'grain corridor' are ongoing at various levels, Russia is simultaneously attempting to destroy Ukrainian port infrastructure and depict Ukraine as a potential violator of agreements," emphasized the representative of Ukrainian Intelligence.
According to him, during negotiations, Russia primarily seeks agreements on exporting its grain and also Ukrainian stolen grain from temporarily occupied territories.
"They understand that they cannot completely exclude Ukraine, but, according to their logic, the destruction of port infrastructure somewhat solves this issue. They won't achieve the desired result under any circumstances, but that's their plan," he added.
Shelling of the Odesa region
In recent weeks, occupiers have intensified nighttime attacks on the Odesa region. Russian forces attacked the Odesa region with Shahed drones during the night of September 6th, specifically targeting the Izmail district. A worker from an agricultural enterprise, who sustained severe injuries during the attack, later died in the hospital.
Furthermore, during the night of September 4th, Russian occupiers once again attempted to attack Ukraine using Shahed kamikaze drones. Their target was the port infrastructure in the Odesa region along the Danube River.
After the attack, the Ministry of Foreign Affairs of Ukraine noted that the Russian drones had fallen on Romanian territory.