Ukrainian Forces pushing Russian fleet out of Crimea - Stoltenberg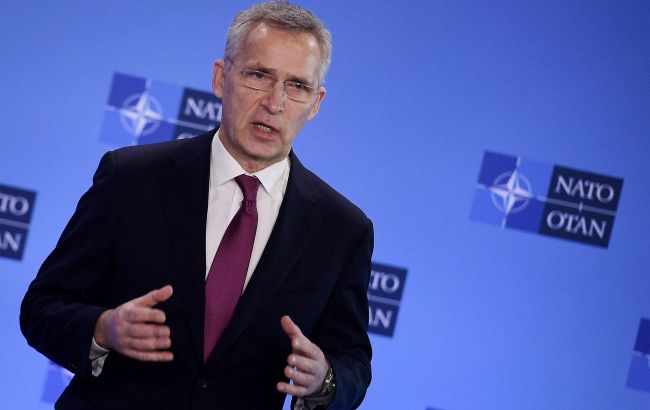 Photo: NATO Secretary General Jens Stoltenberg (Getty Images)
Attacks by Ukrainian troops on Russian naval facilities in the temporarily occupied Crimea are successful. This forces the aggressors to look for alternative places to base their military fleet, NATO Secretary General Jens Stoltenberg says in comments to journalists during the EU Council of Ministers in Brussels.
Responding to questions about Russia's announced intentions to establish a naval military base in Abkhazia, Stoltenberg emphasized that NATO firmly supports the territorial integrity and sovereignty of Georgia and cannot accept that the Russian Federation uses the country's separated territories for its purposes.
"It's just once again violates the sovereignty and territory integrity of Georgia and it demonstrates how far Russia was willing to go to achieve the military goals in Ukraine. But also that actually they have been pushed on the defensive because the Ukrainians have actually been successful in attacking enable facilities in Crimea and therefore Russia is looking into alternatives and demonstrating actually the achievements that the Ukrainians have made in attacking Russian Navy," says the NATO Secretary General.
Attacks on Russian ships
Last week, the Ukrainian military conducted several successful operations to destroy Russian ships in the Black Sea.
So, on November 4, the Defense Forces of Ukraine struck the Zatoka shipyard in Crimea. As a result of the attack, the Caliber Corvette Askold, which the occupiers were going to launch and enter into the Black Sea Fleet in December of this year, was damaged.
Directorate of Strategic Communications of the Office of the Commander-in-Chief of the Armed Forces of Ukraine showed a photo of the consequences. The footage showed that the Defense Forces of Ukraine caused significant damage to the enemy ship Askold.
According to available information, the Russian ship has suffered significant damage and may be beyond repair.
In addition, on November 10, the scouts of the Main Directorate of Intelligence conducted a successful special operation in Crimea. In the village of Chornomorske, two small amphibious ships were damaged, and Russian personnel losses are being clarified.
The Main Directorate of Intelligence confirmed that an operation using surface drones was carried out on November 10. One ship of the older project 1176 Akula, and another newer - project 11770 Serna went to the bottom.