Ukrainian forces push back in counteroffensive: Regain 3 sq. km in Bakhmut sector over past week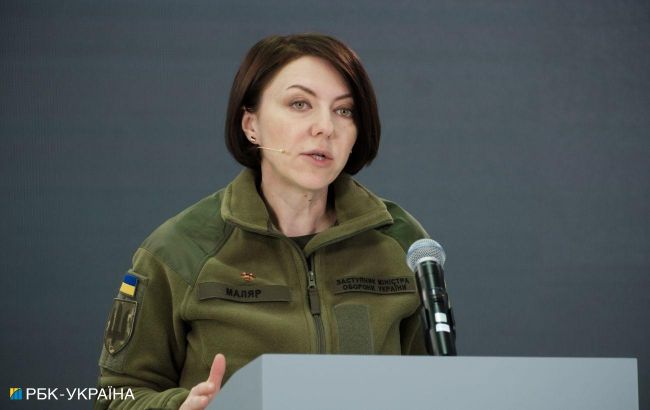 Hanna Maliar, Deputy Minister of Defence (Photo: Vitalii Nosach, RBC-Ukraine)
According to Hanna Maliar, Deputy Minister of Defence and her statement made during a briefing, Ukrainian military forces have launched a counteroffensive operation resulting in the liberation of a significant 3 square kilometers in the Bakhmut sector during the past week.
Maliar underscored that the eastern front remains the epicenter of ongoing hostilities, with Russian forces focusing their main thrust in this direction.
"Since the beginning of 2023 up until now, particularly in the east, the enemy has been attempting to advance on multiple fronts. However, analyzing the situation from January up to the present August, we can see that the adversary has not made any progress. These have truly been intense battles. The Ukrainian Armed Forces are employing all their skills there to halt the enemy's advance," she explained.
The Deputy Minister of Defense highlighted that during the past week and the end of the previous week, Russian occupying forces intensified their activities in the Kupiansk and Lyman directions. She noted that this was in response to the successful advancement by Ukrainian forces in the southern flank of the Bakhmut sector.
Maliar explained that the enemy aimed to divert Ukrainian forces to other directions and complicate the situation to prevent the concentration of forces for an advance in the Bakhmut sector.
"Over the past one and a half weeks, our Armed Forces have significantly weakened the enemy's capabilities in both the Lyman and Kupiansk directions. While it might appear that the number of attacks has decreased at first glance, it doesn't necessarily mean that the enemy has deviated from their plans. Rather, it reflects that we have substantially reduced their offensive potential," she stated.
The Deputy Minister of Defense noted that on the Bakhmut sector front, Russian occupying forces attempted to reclaim lost positions in areas west of Klishchiivka, Andriivka, and Kurdiumivka. These were the main areas of conflict during the past week.
Regarding the Avdiivka and Mariinka directions, the situation is extremely challenging. The enemy is striving to take control of Maryinka and encircle Avdiivka. Ukrainian troops have valiantly defended these directions since last summer, facing a highly complex situation.
Furthermore, the enemy is trying to regain lost ground in the liberated Staromaiorske area. Consequently, tension remains high in that region as well.
Frontline situation
According to the Institute for the Study of War (ISW), Ukrainian soldiers continue to achieve success in the southern regions of the country. Concurrently, occupant forces have not ceased their assaults in the Kupiansk and Svatove areas, where heavy battles are ongoing.