Ukrainian First Lady discusses negotiations on arms supplies to Ukraine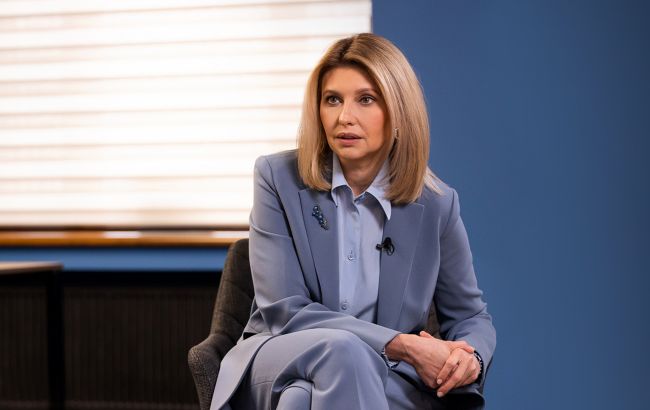 Photo: Ukraine's First Lady, Olena Zelenska
In an interview with RBC-Ukraine, Ukraine's First Lady, Olena Zelenska, addresses the issue of supplying military equipment to Ukraine during her meetings on the international stage following consultations with the Office of the President.

She noted the atypical nature of being in a country at war while continuing her humanitarian activities. Zelenska emphasized the importance of not behaving as if it does not concern oneself.
"Since I never talk about offensive weapons, I always speak about weapons solely in the context of defending the Ukrainian civilian population, protecting our children, our mothers. Everyone I address is involved because it is sincere - I don't make anything up," she stated.
Moreover, the First Lady always consults with the diplomatic corps and the Office of the President regarding what she can say and request. She underlined that she carries out tasks assigned to her by Ukraine and can only speak on her behalf.
"In reality, all meetings are planned and anticipated. There are hardly ever topics that your interlocutor does not expect you to address. After my speech in the U.S. Congress, where I requested support for air defense and missile defense systems, I believe any of my conversation partners understood that I could touch upon this subject and discuss it. And I continue to do so," she said.
Zelenska mentioned that she has more contact with the wives of other countries' presidents. During each foreign trip, she has specific missions to fulfill. These include meetings with numerous individuals, including heads of state, government ministers, foreign affairs ministers, and defense ministers.
"I remember my recent trip to South Korea. I had a meeting with the President, and indeed, there was a long list of equipment, including the military, that we needed. I couldn't simply list the names of weapons and military equipment. So, I handed over the entire translated list to the president and verbally described what I would like them to consider," Zelenska explained.
She further revealed that later, during Yun Suk Yol's meeting with the President of Ukraine, he referred to that list, cross-checking it with what Zelenskyy had provided, and was pleased to find a match. Therefore, the First Lady and her delegation conducted preparatory work for the main negotiations between the presidents.
Zelenska noted that there are rarely any spontaneous or surprising elements during such meetings.
"Diplomacy, even soft power diplomacy, of which I am a part, perhaps in certain non-humanitarian spheres, is strictly calculated steps that, in principle, do not leave much room for things to go wrong," she added.
Olena Zelenska's activity
Following the onset of a full-scale war, the First Lady could not focus solely on humanitarian efforts. She engaged in meetings with international leaders and their spouses.
She visited the White House, met with U.S. President Joe Biden, and delivered a speech before Congress urging the provision of missile defense systems to Ukraine. Additionally, she attended the coronation of Charles III in the United Kingdom and met with the country's Prime Minister, Rishi Sunak.