Ukrainian counteroffensive to be long, Russians already suffer massive losses: General Milley states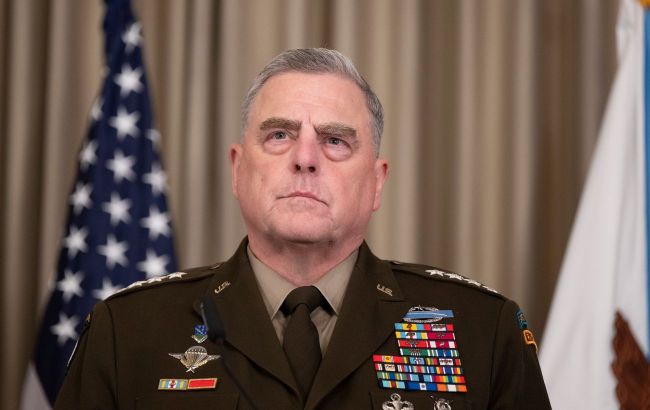 Mark Milley (Photo: Getty Images)
The advance of the Ukrainian Armed Forces will be long and gradual, but Russian forces have already suffered significant losses, according to the Chairman of the Joint Chiefs of Staff of the United States, General Mark Milley, cited by The Washington Post.
Regarding the Ukrainian defense counteroffensive
According to Milley, Russian forces are currently in a rather poor state; they have already suffered significant losses.
"Their morale is not great. Their leadership (on the battlefield - Ed.) is questionable and spotty, depends on what type of unit. The strategic level of leadership is clearly having a lot of friction. Logistics is not great. So, the Russians are, though, in the defense.
He emphasizes that a few months ago, he mentioned that the Ukrainian counteroffensive would be long, bloody, and slow. Milley added that this is currently happening, but overall, Ukraine is fighting and waging a very difficult battle.
On Ukraine's victory
Milley explains that for Ukraine, this war is an existential struggle for survival. However, for other parts of Europe, the world, as well as the United States, it's about preserving international rules.
"What Putin has done is a frontal assault on those rules of the international order that have been in existence now for eight decades since the end of World War II," the general said.
He clarifies that if the ultimate result is a Ukraine that is a free, independent sovereign country with a free territory, it will require significant effort.
"And this is a long, very difficult, high casualty-producing war that's ongoing. You can achieve those objectives through military means," the U.S. general replied.
On diplomatic resolution in Ukraine's war
Milley declines to comment on any future events, ongoing negotiations, or similar matters. According to him, there are various ways to achieve these goals (victory -Ed.).
"And I would say right now, it's probably too early to tell this. This counteroffensive hasn't run its course yet. So we have to see where this thing ends up and then move from there," the U.S. general said.
Ukraine's advance
This summer, Ukrainian military forces intensified their offensive actions in the east and south of the country, particularly in the Donetsk and Zaporizhzhia regions.
During this time, Ukrainian defenders managed to liberate more than 10 settlements. Recently, the Ministry of Defense of Ukraine reported the liberation of the town of Urozhainе in the western Donetsk region. Later, the General Staff of the Ukrainian Armed Forces confirmed this information.
Today, the spokesperson of the General Staff of the Ukrainian Armed Forces, Andriy Kovalov, announced that Ukrainian military forces continued their offensive operation in areas south of Bakhmut.