Ukrainian Armed Forces liberated additional square kilometer near Bakhmut, Deputy Minister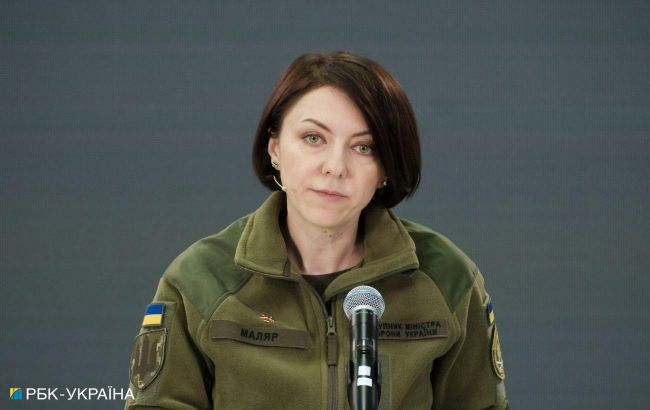 Photo: Deputy Defense Minister of Ukraine Hanna Maliar (Vitalii Nosach/RBC-Ukraine)
On the northern flank of Bakhmut, Russian forces are attempting to regain lost positions, while on the southern flank, Ukrainian Armed Forces have liberated an additional 1 square kilometer of territory, says the Deputy Minister of Defense of Ukraine Hanna Maliar during a telethon.
"The Bakhmut direction is very hot. It's an eastern direction where we have advancements every week. They are gradual but steady. This is what bothers the enemy the most. Along the Bakhmut direction, it somewhat resembles a horseshoe around the city of Bakhmut. And the dominant heights that are occupied, they resemble a semi-encirclement," Maliar said.
According to her, the enemy is attacking on the northern flank, trying to retake what Ukrainian soldiers have occupied.
"The main struggle is happening precisely for this. On the southern flank around Bakhmut, we are making progress. Last week, another square kilometer was liberated there. In total, it's 44 square kilometers that have been liberated," added the Deputy Minister.
Maliar noted that the epicenter of the fighting has been in Klishchiivka.
"Indeed, the battle is ongoing in this settlement. And also in the areas of Orihovo-Vasylivka. There, too, the enemy is putting up strong resistance. But we are making progress there," she said.
deepstatemap.live
Battle for Bakhmut
It's worth mentioning that Bakhmut has been the center of military operations for months. According to the General Staff of the Ukrainian Armed Forces, our troops are conducting offensive actions south of the city of Bakhmut, consolidating their achieved positions. In turn, the occupiers are attempting to regain lost positions.
On August 27, Russian forces continued counterattacks near Bakhmut but did not advance. The Ukrainian General Staff reported that Russian forces were conducting unsuccessful offensive actions near Orikhovo-Vasylivka (11 km northwest of Bakhmut) and Klishchiivka.