Ukrainian Armed Forces liberated 260 square kilometers on main offensive line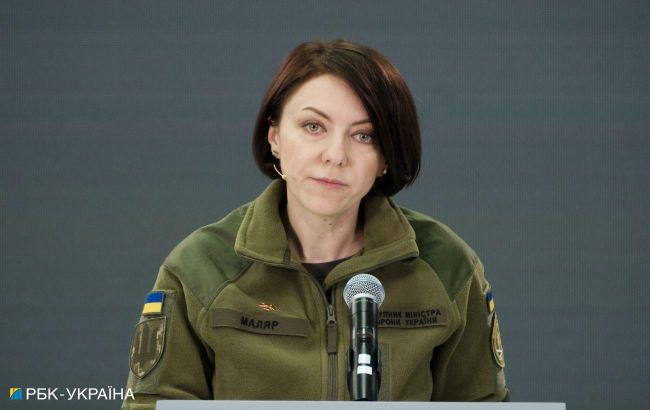 Hanna Maliar (Vitalii Nosach, RBC-Ukraine)
Ukrainian Defense Forces have liberated a total of 260 square kilometers of territory since the beginning of their offensive, with 5 square kilometers reclaimed in the past week alone, according to the Deputy Minister of Defense Hanna Maliar.
"Our main direction of advance is the south. We made advancements in the south last week as well, particularly in the direction of Melitopol. But the enemy is on the defensive across the entire southern front, including the Zaporizhzhia and Kherson directions," she stated.
Maliar added that the Ukrainian Armed Forces have been highly effective in neutralizing the enemy's defensive capabilities. "In other words, it's very difficult for them (the occupiers) to defend themselves," she said.
"What is the enemy capable of? They can shell us, as they have a lot of weapons and an advantage in armament. They are shelling the Zaporizhzhia, Kherson, and Mykolaiv regions and actively using Lancets," Maliar said.
The Deputy Minister of Defense added that the Ukrainian Armed Forces are repelling enemy attacks in the areas of Novodarivka, Novomykhailivka, and Novodanylivka in the Zaporizhzhia region.
However, progress has been made in the direction of Melitopol, where the Ukrainian Armed Forces have managed to advance. The town of Robotyne has been liberated. "So, we have advanced around, or as military personnel say, in the area of Robotyne, which is further south and east of this village," she said.
Maliar reported that in the past week, Ukrainian Armed Forces have reclaimed 5.2 kilometers in the southern direction. "In total, during the offensive operations, we have already liberated more than 260 square kilometers," she stated.
Ukrainian counteroffensive
The Ukrainian Armed Forces launched a counteroffensive at the beginning of June. During this time, they have managed to liberate approximately ten populated areas in the Melitopol and Berdiansk directions.
As stated by the Chief of the General Staff of the Ministry of Defense Kyrylo Budanov, the first defensive line in the most crucial southern direction has already been breached in some places. This suggests that the operation to sever the land corridor between Russia and Crimea could be completed before the winter.
Additionally, during the counteroffensive, the Ukrainian Armed Forces have reclaimed 51 square kilometers of territory in the Bakhmut direction. Last week, Ukrainian troops successfully de-occupied Andriivka and Klishchiivka.