Ukrainian Armed Forces confirm attack on Russian ships and Sevastopol port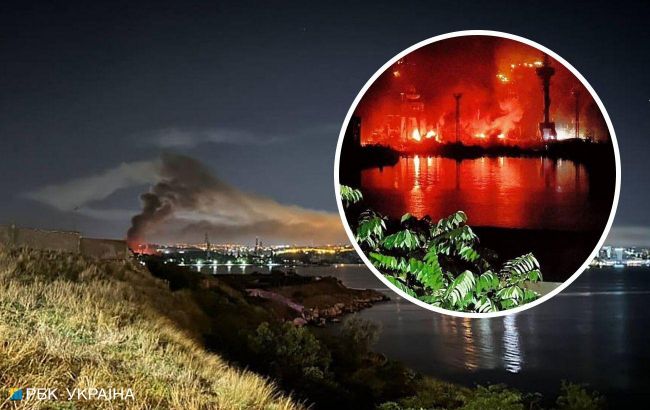 Ukrainian Armed Forces confirm attack on Sevastopol (RBC-Ukraine collage)
"On the morning of September 13, the Ukrainian Armed Forces successfully struck the assets of the Russian Navy and the port infrastructure in the temporarily occupied Sevastopol in the Korabelna Bay," the statement reads.
The attack on Sevastopol
Explosions were heard in the occupied city of Sevastopol, Crimea, during the night of September 13. Later, the Russian Ministry of Defense reported an attack. According to the Russians, 10 cruise missiles attempted to strike the Shipyard named after S. Ordzhonikidze in Sevastopol, with seven of them allegedly being intercepted.
After the attack, a fire broke out on the territory of the Sevastopol Shipyard, which was detected by NASA satellites. The fire ignited in the Pivdenna Bay and Korabelna Bay of Sevastopol.
The Main Intelligence Directorate of the Ministry of Defense, in a comment to RBC-Ukraine, confirmed that a large naval ship and a Russian submarine were hit in Sevastopol. According to reports from the network, the damaged vessels include the diesel-electric submarine Rostov-on-Don and the landing ship Minsk.
For more information on the nighttime events in Sevastopol and the damage to the ships, please refer to RBC-Ukraine's article.