Strike on Sevastopol shipyard: Russian MoD acknowledges damaging 2 ships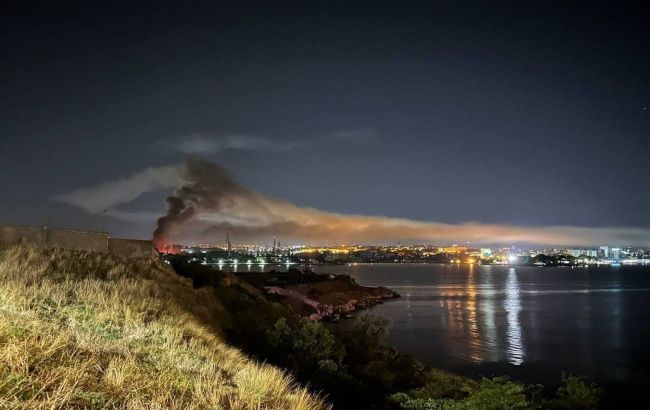 Photo: In the occupied Sevastopol, as a result of a strike on a shipyard, two ships were damaged (Russian media)
In temporarily occupied Sevastopol, as a result of strikes and explosions with a fire on the territory of the shipyard on the night of September 13, at least two ships of the Russian occupiers were damaged, reports the Russian Ministry of Defense.
In the aggressor country's statement, it is claimed that "ten cruise missiles were launched" at the Shipyard named after S. Ordzhonikidze in Sevastopol that night, as well as "three unmanned boats against a group of ships of the Black Sea Fleet in the sea passage."
The Russian Ministry of Defense accuses Ukraine of this attack.
The statement also mentions the alleged interception of 7 missiles by air defense systems and the destruction of all maritime UAVs by the occupant patrol ship "Vasily Bykov."
"As a result of the enemy's cruise missile strikes, two ships undergoing repairs were damaged," the Russian Ministry of Defense said.
Powerful explosions in Sevastopol on the night of September 13
Explosions occurred on the night of September 13 in the temporarily occupied Sevastopol - a fire broke out in the area of the Pivdenna Bay, near the shipyard. Local residents on social media reported at least seven explosions.
In addition, around 3:50, Sevastopol residents reported further explosions and gunfire. Local media report a possible UAV attack. There were also reports of a large fire in the shipyard part of Sevastopol.