Ukrainian Air Force shows pilots adapting to F-16, video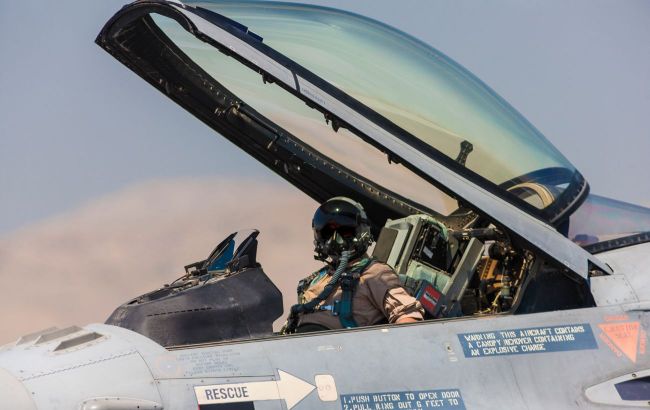 Illustrative photo: Ukrainian Air Force showed how our pilots are adapting to F-16s (Getty Images)
Ukrainian pilots are mastering the operation of American F-16 fighter jets using a flight simulator, reports the Air Force.
The video demonstrates how a Ukrainian pilot, using virtual reality goggles, an engine control stick, pedals, and a monitor, learns to operate an F-16 fighter jet on a flight simulator.
Pilots familiarize themselves with the cockpit of the fighter in virtual reality and carry out joint missions over Ukrainian territory as pairs, flights, and squadrons while being in different regions of our country.
Such virtual simulators allow them to train in their free time without being tied to specific locations and times.
With experience in simulators, Ukrainian pilots will be able to undergo training on real aircraft in partner countries more quickly.
F-16s for Ukraine
Several European countries, as part of an aviation coalition, have agreed to provide training for Ukrainian pilots on F-16 fighter jets.
In this regard, the Netherlands, Denmark, and Norway have agreed to provide Ukraine with at least 61 fighter jets.
According to The Wall Street Journal, Ukrainian and Western officials expect Ukrainian pilots to begin carrying out combat missions on Western F-16 fighter jets as early as this winter. Meanwhile, in the Netherlands, it is believed that Ukraine will receive the fighter jets next year.
Earlier, Air Force spokesperson Yurii Ihnat reported that Ukraine needs approximately 128 aircraft to gain an advantage in the sky and replace its aging fleet.