Ukraine to soon receive F-16s, Biden yet to say 'yes' or 'no' on ATACMS, Milley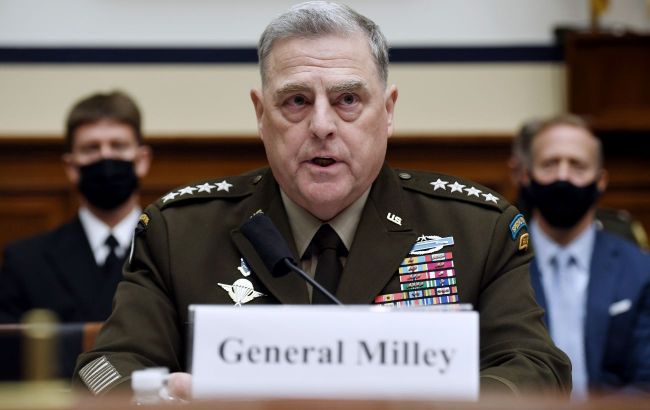 Photo: General Mark Milley (Getty Images)
Ukraine will soon receive American F-16 fighter jets. The question of supplying ATACMS has not yet been resolved, says the Chairman of the United States Joint Chiefs of Staff Mark Milley in an interview with the Al-Mamlaka (Jordan).
"F-16s. That is moving forward, actually. There's a training program in place, and they (Ukrainian military - Ed.) will likely receive F-16s in the near future," he said.
According to him, Washington is still discussing the issue of providing the Ukrainian military with long-range tactical missile systems known as ATACMS, which are needed by Ukraine and can reach the enemy's rear, including Russian territory.
"They've got long-range artillery with GMLRS, and the Brits have provided other types of capabilities. So, they've got a lot of artillery," Milley said, noting, "ATACMS is a controversial topic."
He stated that Ukraine has not received ATACMS for several reasons, and the question is still "on the table."
"President Biden has not said 'no' or 'yes'," Milley said.
F-16s for Ukraine
Ukrainian President Volodymyr Zelenskyy announced that he had received promises from Denmark, the Netherlands, and Norway to supply F-16s, stating that they would strengthen Ukraine's air defense and help it counter Russian forces. It is known that Kyiv will receive at least 61 aircraft from Denmark and the Netherlands.
The United States intends to start training Ukrainian pilots on F-16s in the near future. Training will begin in October at the Morris National Guard Base in Tucson, Arizona.
ATACMS is a solid-fueled ballistic missile of the "ground-to-ground" class produced by the American company Lockheed Martin with a range of up to 300 km. The launch systems for ATACMS missiles are M270 MLRS and M142 HIMARS.
Recently, US President Joe Biden confirmed that the United States had begun considering transferring these missiles to the Ukrainian Armed Forces.